Preparing for Worship
Welcome to our worship service today! You may worship online with the people of God at Boronia Park UC together wherever you are by the fellowship of the Holy Spirit.
We have been in our Advent journey. During this season of Advent, we will explore what it means for us to wait the coming of Christ Child, the prince of peace and the Son for us to save. Also, the theme for this season 2020 is "Which story of Jesus Christ should we bring to life?" Whatever story about Jesus who comes into your life and His birth comes in your mind first place, we anticipate that it would be your life-giving gift to your family, friends, colleagues or neighbours. As God gives His only son for us and His Creation as Good News, we may bring it to others this Advent and Christmas. Which story comes up in your mind now?
Sunday Worship Video 1/5
Sunday Worship Video 2/5
Sunday Worship Video 3/5
Sunday Worship Video 4/5
Sunday Worship Video 5/5
Acknowledgement for the First Peoples
We would like to begin by acknowledging Aboriginal and Torres Strait Islander people, as the Traditional Custodians of the land on which we meet today and pay my respects to their Elders past, present and emerging. We extend that respect to them with our faithful prayer in this worship.
Lighting of the Advent Candle for Peace
Yolŋu people speak of right relationships between people, between people and God, and people and the land as Mägaya Rom. The Law gives meaning to our lives by teaching respectfulness in all our relationships. God sent Jesus into the world to bring peace and restore broken relationships. His reign brings Mägaya Rom.
May the God of Peace help us
honour each other and cherish the gifts
God gives of the land, sea, sky and water.
May the God of Peace help us live in peace. Amen.
Call to Worship
Prophet Isaiah proclaimed once,
How beautiful on the mountains are the feet of the one
bearing good news to Israel
and announcing God's coming kingdom!
Isaiah 52:7
This is the God we adore and trust,
this is the One who we long for,
so let us worship God.
Song: Choose to Hope
Hope is born when we choose to believe
that love is stronger than hatred;
Love is born when our hearts learn to see
that ev'ry person is sacred.
In the times of darkness,
in times of fear,
choose to hope,
choose to love,
and know that God is near.
Hope will grow when we choose to believe
that we are sisters and brothers;
Love will grow when our hearts learn to see
the life we share with each other.
In the times of darkness …
Hope will shine when we choose to believe
a little child will lead us;
Love will shine when our hearts learn to see
that God is dwelling within us.
In the times of darkness …
Sing out hope through the violence and fear,
for God is present beside us;
Prince of Peace, make your home with us here,
your love and wisdom will guide us.
In the times of darkness,
in times of fear,
choose to hope, choose to love,
Emmanuel* is near.
Emmanuel is near.
* Emmanuel means 'God is with us'.
Marty Haugen
CCLI Licence # 260394
Opening Prayer
Let us pray:
God of Hope, Peace, Joy and Love,
as we have begun this year the Advent journey toward the day
Your dearest Son Jesus Christ was born,
for us and for many,
we give all our honour and gratitude only to You.
So please receive and hear us.
God of Seasons in weather and in many lives,
as the Summer season of 2020 and 2021 has begun,
we pray that you guide and lead us in to a right path
where we might stay cool, keep hydrated
and look around those who have less than us.
We are all Your people so we want us all
to live out your liberating hope and abundant peace
in your providing hands and guiding arms.
Lord God, as we just sang,
in this time and space of worship,
let us draw near you, and you may come nearer to us
when we choose to believe, hope, love and make peace
with each other.
Your Son, Jesus Christ, is coming through the time of darkness,
the circumstances where people might give all up in lives,
and the challenges currently of the pandemic all around the world.
In this worship, communion service,
       we may ask you, Lord, to make us humble before your presence,
your table, your people here gathered with each other.
We truly believe that Your Peace, through Your son Jesus Christ,
breaks hatred made by our greedy hearts,
sooths all wounds and scars in our souls,
and recreate the world where we should live the Life
Jesus Christ has offered to us.
Lord, hear us. Lord, be with us.
Emmanuel is near. Nearer than ever before.
We pray in Jesus' name.
Amen.
Bible Readings: 2 Peter 3:8-15a, Mark 1:1-8
Elaine Wallbank
The first reading comes from 2 Peter.
8 But do not overlook this one fact, beloved, that with the Lord one day is as a thousand years, and a thousand years as one day. 9 The Lord is not slow to fulfill his promise as some count slowness, but is patient toward you, not wishing that any should perish, but that all should reach repentance. 10 But the day of the Lord will come like a thief, and then the heavens will pass away with a roar, and the heavenly bodies will be burned up and dissolved, and the earth and the works that are done on it will be exposed.
11 Since all these things are thus to be dissolved, what sort of people ought you to be in lives of holiness and godliness, 12 waiting for and hastening the coming of the day of God, because of which the heavens will be set on fire and dissolved, and the heavenly bodies will melt as they burn! 13 But according to his promise we are waiting for new heavens and a new earth in which righteousness dwells.
Final Words
14 Therefore, beloved, since you are waiting for these, be diligent to be found by him without spot or blemish, and at peace. 15 And count the patience of our Lord as salvation.
This is the Word of the Lord
Thanks be to God.
The Gospel reading comes from Mark 1.
John the Baptist Prepares the Way
1 The beginning of the gospel of Jesus Christ, the Son of God.
2 As it is written in Isaiah the prophet,
"Behold, I send my messenger before your face,
    who will prepare your way,
3 the voice of one crying in the wilderness:
    'Prepare the way of the Lord,
    make his paths straight,'"
4 John appeared, baptizing in the wilderness and proclaiming a baptism of repentance for the forgiveness of sins. 5 And all the country of Judea and all Jerusalem were going out to him and were being baptized by him in the river Jordan, confessing their sins.6 Now John was clothed with camel's hair and wore a leather belt around his waist and ate locusts and wild honey. 7 And he preached, saying, "After me comes he who is mightier than I, the strap of whose sandals I am not worthy to stoop down and untie. 8 I have baptized you with water, but he will baptize you with the Holy Spirit."
The Gospel of the Lord.
Praise to you, Lord Jesus Christ.
Sermon – Seung Jae Yeon
The Spirit anointed the prophet
to proclaim good news to the poor
and that meant liberation!                          
Isaiah 61:1
Last week, it was the first Sunday for worship face to face after 8 months we worshipped wherever we were. Also, we began the season of Advent and the liturgical year with the last words of Jesus' ministry according to Mark. This week, Advent two, we swing back to the beginning of his gospel. Last week, I wanted us to think about the meaning of hope, stressing to hope means to remember – who we are, who God is for us, and what God has done for us and for many in this world. In reading and reflection on today's passage, I may invite you to join with each other to think about the theme of this Advent: Which story of Jesus Christ should we bring to life this week? How are we supposed to live or to take action as Jesus' followers in this world?
In verse 3, "The voice of one crying in the wilderness," said John the Baptist. This word comes from one of ancient prophets, Malachi (3:1). Wilderness. It is a place defined by its exclusion, a stark space between life and death, majority and minority, hope and hopelessness, spirit and flesh. It is a place to meet God. Wilderness is located outside of the centres of political, economic, social, or cultural power. Wilderness represents the margins of our world. A wilderness place makes and leads those in the setting to look back on the past times and events, to reflect on them, and possibly for us Christians to repent and turn back to God. I believe that wilderness is a place of formation and transformation.
In the new years' eve of 2013 and the first week of January 2014, our family was staying with a group of young people as part of a mission outreach team in Port Augusta, SA. It was an eight days trip including 2.5 days in driving so it was a big one for five of us for the first time. While we stayed in the town of Port Augusta, we met many Aboriginal young people from South Australia and Northern Territory and those Aboriginal elders who travelled from inland of Australia who own and speak their mother language. It is an unforgettable memory as part of my spiritual journey and formation being with the First Peoples.
One day, the leader of mission team, Rev. Ace Kim at One Heart, asked me to lead one session for the team members which the young people might find tranquil moment during the trip. I took them to Australian Arid Botanic Garden near by the town where we were able to taste what wilderness looks like and how we might find God's presence in there and among members. I asked them to make a pair and go to the park, whereas I walked with my family, Grace, Josh, Daniel and 4 years old Heather. Then we stood together in front of this view.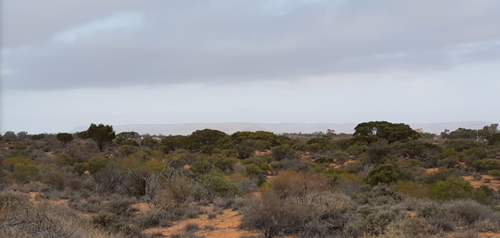 I didn't expect this but just amazing. It is a jaw-dropping moment for me and such a wonderful time given by God for five of us. At that time, it was only three weeks before I started my student minister role here at Boronia Park. It was a time that I think how to conclude my formation and then move to next phase which I do sole ministry experience. I was somewhere I don't know, experience, and participate in. However, before this spectacular land scape called "outback" in Australia, I was able to feel that I am in the place of waiting and preparation before big events. And I was for sure that I am with God and with my family. In this strong and firm foundation in my life, I have no doubt and no fear. I was feeling little before the wilderness there but building much confidence in both My God and my family. In the wilderness I was a person who found good news in life, in God, and in God's creation. It was a wilderness but for me a time and space where I found where I am in God willing.
Yes, there is 'good news' for me, for you, and for many in the time of being wilderness where challenges and opportunities compete in our soul and sight. Mark sets the agenda: how Jesus was good news and brought good news and how we can be good news. In 1:2-3 Mark makes a connection with ancient hope from the Old Testament: Isaiah's prophecy, Exodus passage and Malachi. What Mark cites is about the angel who would go before the Hebrew slaves in the wilderness and a messenger whom God would send. In Mark's references, John the Baptist proclaims that he is a voice crying out that people should get ready for the Lord's coming. And John himself was at the river Jordan, bringing people out from 'all the country of Judea and Jerusalem' to him in the wilderness. There might be the tension between centre and margins, majority and minority, power and less, and the righteous and the sinners. But in John's preaching, the good news and God's salvation was being regenerated not at the centre but at the margins, the wilderness. People who were baptised by John as whole must turn around. They repented and were cleansed by John's rite in the water and in the wilderness. John was there for them and for the coming Lord, Jesus as a crying voice for the coming Lord Jesus Christ, the Good News.
The good news which will come with Jesus follows God's purpose and will. I mean that good news never stops moving and taking rest in somewhere. Good news goes, moves and continues. A sense of continuity is important for a community of faith like us. What happened in Jesus and in us individually and collectively did not leave the past behind. It continues it. All God's works in the narratives in the Bible and in Jesus' ministry are known in actions of the past. And then God delivers. Though we are now in the era of uncertainty and unsure of things in life, the God in Jesus' ministry, John's preaching and baptisms, people from all Judea and Jerusalem, and us here at Boronia Park Uniting Church delivers us. Though we are now waiting, going slow and preparing things like being in wilderness, we are all in the One who delivers us forward or a direction where His call needs us to fulfil. Wilderness is a symbol loaded with hope and peace where our faith is placed. Our response may be like 'what good news is this?' or 'what liberation is on offer?' And I am wondering which story you have found here and will bring to life? Then which direction should we continue God' purpose and good news of Jesus Christ this week?
If we have been through a challenging and changing time in life, I may encourage all of us, first to remember who God is for us and what God has done for us till today. And then second, trust that God who we all believe delivers us from here to another direction. It would take longer than we expected. But our God delivers. No reason for Him to abandon us. Hold tight faith you have no matter how little it would be. We know challenges and changes come and go, but real faith in the Good News, Jesus Christ, makes us hopeful, peaceful and confident. Because faith is a state of being – yourself and ourselves as Church. Faith that we Boronia Park has been growing would make us continue our journey toward the Promised Land. We don't know where or when? Or how to and what to? The answer of faith is this: It doesn't matter. We don't know now and we may never know. To not know in the context of faith is for us to remain humble and teachable. Faith we have today is our state of being and an attitude of acceptance of not knowing. Knowing does not create faith. Unknowing does. Again, trust in God who brought us faithfully here today. In this time of wilderness, please remember who God is for us, and what God has done for us. Look around you! There are your friends, caregivers, neighbours, spouse, family and church family. We are now going together through the wilderness. And with faith, we are able to witness and acknowledge the good news of Jesus Christ, the Coming Lord, Prince of Peace and our dearest Friend ever before.
Thanks be to God.
Prayers of the People – Robyn Harvey
Background
As the end of this year nears, many shared elements can be found between 2020 and Advent: weariness; pain; uncertainty about the future; systemic injustice; needless deaths and suffering.
Into this picture of exhaustion and fear comes Jesus. The Messiah who comes to us in the most unlikely, unexpected form. The God who did not forget his people or ignore their cries. Jesus did not deny our pain or magically fix it, instead, he entered into it wholly bringing healing and salvation.
2020 has seen an extraordinary global experience of shared pain and fear: the first time that many people have experienced such a thing in their lives. And this weariness is magnified for those already living injustice, whose lament is not new, and has often gone unheard and unresponded. The experiences of the marginalised have been brought to light and made more visible through our shared experience of pain and weariness during this time: our global, national, community and neighbourhood lament.
It is only through acknowledging the fullness of lament that we truly hear the voices of the marginalised and are called to respond. Sitting in lament acknowledges the existence of pain. We become present to the here and now, to the stirrings and teaching of the Spirit. Sitting in lament brings a deep and clear focus on salvation and hope in Jesus.
Let us now come to God in prayer – Heavenly Father and Creator of this world.
Open our hearts to people around us in the community who need to hear your message of love, forgiveness, hope and joy. Show us the way to bring salvation to these people so that at this time of the year when we joyfully celebrate the birth of your Son Jesus Christ they may also see the love, joy and hope that is unconditionally offered by you in the form of Jesus.
We pray for those among us who are feeling weary or in pain – give them healing and the strength to walk tall with you alongside them.
We pray for the those in our community who are uncertain of the future no matter what their age.  Both young and old are wondering and sometimes fearful of what will happen to this world of ours that is experiencing so many changes in our climate, in our relationships between countries, in our trust in our government bodies and our political leaders, in the ability to find work and for our young people to be able to study in the area they have a passion for learning.
We pray for the people in our World Cycle of Prayer who live in Cambodia, Laos and Vietnam.
We remember, O Lord, those who suffer from any kind of discrimination,
your children, and our brothers and sisters, who are humiliated and oppressed.
We pray for those who are denied fundamental human rights, for those who are imprisoned, and especially those who are tortured.
Our thoughts rest a few moments with them… And we pray that your love and compassion may sustain them always.
Locally we pray for your priests Kevin and Aliki and the congregation of the Holy Name of Mary and St. Peter Chanel church's at Hunters Hill.  We thank you Lord for their community spirit and compassion for justice in this world. We pray that at this Advent time they will be uplifted with your love, forgiveness and joy and will find salvation in Jesus.
We pray for the Uniting Church and especially for our own people here at Boronia Park. In this time of Advent may we feel a closeness to Jesus that we have not felt in the past. May we come to him with thankful hearts that we have come through this year, knowing that Jesus has been with us through this pandemic and keeping us well and nourished by our own special time with him.
I am finishing my prayer with a prayer by Ann Siddall called Christmas Beatitudes.
Christmas Beatitudes
Blessed are they
who arrive at the door of Christmas
with aching hearts and empty hopes,
for they shall be satisfied.
Blessed are they who weep
for families that are broken,
and dreams that are shattered:
for they shall be comforted.
Blessed are they who struggle
to put food on the table,
and gifts under the tree,
for they shall evoke our generosity.
Blessed are they who grieve,
whose Christmas holds an empty place
at a table, a greeting not received:
for they shall be deeply loved.
Blessed are you,
when you hold out for the real meaning
of this season, and refuse to buy
into an empty performance:
Blessed are you for coming today,
to honour an older, deeper meaning,
and to celebrate with this community,
for you shall be called the children of God. 
Amen.
Attributed to Ann Siddal, Stillpoint Spirituality Centre and Faith Community
Chanting – O Lord Hear My Prayer (Taizé)
Lord, hear my prayer
O Lord, hear my prayer
When I call, answer me.
O Lord, hear my prayer
O Lord, hear my prayer
Come and listen to me.
Words and music by permission Ateliers et Presse de Taizé Ltd.
CCLI Licence # 260394
THE SACRAMENT OF THE LORD'S SUPPER
The following Liturgy is designed to deviate only minimally from the Sacrament of the Lord's Supper as set out in Uniting Worship and other liturgical resources, to allow for the absence of bread and wine/juice – while retaining familiar foundations, in uncertain times.
The Peace
The peace of the Lord Jesus Christ be always with you.
Also with you.
Don't be afraid, my love is stronger,
my love is stronger than your fear.
Don't be afraid, my love is stronger,
and I have promised, promised to be always near.
Invitation
This earth is not our earth.
This is God's earth.
This time is not my time.
This is God's time.
This table is not my table.
This is God's table.
God's earth, God's time, God's table…
It is God who provides this feast of place and time and community. Provision is already made for us all to be part of God's story. God longs for us to be at home with God and one another.
Place your hand on the table or the wall, set your feet on the floor, recognise these spaces as being of God and for God for everything we have comes from the One source of all that is.
In this time, we rededicate ourselves and our surroundings for God's good purposes.
Communion Song: Behold the Lamb
Behold the Lamb who bears our sins away,
Slain for us: and we remember:
The promise made that all who come in faith
Find forgiveness at the cross.
So we share in this Bread of life,
And we drink of His sacrifice,
As a sign of our bonds of peace
Around the table of the King.
The body of our Saviour, Jesus Christ,
Torn for you: eat and remember
The wounds that heal, the death that brings us life,
Paid the price to make us one.
So we share in this Bread of Life,
And we drink of His sacrifice
As a sign of our bonds of love
Around the table of the King.
The blood that cleanses every stain of sin,
Shed for you: drink and remember
He drained death's cup that all may enter in
To receive the life of God.
So we share in this Bread of Life,
And we drink of His sacrifice,
As a sign of our bonds of grace
Around the table of the King.
And so with thankfulness and faith
We rise to respond: and to remember
Our call to follow in the steps of Christ
As His body here on earth.
As we share in His suffering,
We proclaim: Christ will come again!
And we'll join in the feast of heaven
Around the table of the King.
Words and music by permission Oregon Catholic Press
CCLI Licence # 260394
Thanksgiving Prayer
The Lord is with us.
We lift our hearts to God.
We give thanks to God.
For God not only created the earth and heavens,
but all things that have lived and will yet live.
Saints from ages past and those who are yet to come,
join with us in the here and now,
linked in miraculous ways.
The stories, described by prophets and saints
of past, present and future, dance together
in reflection of God's own glory,
for all Life has an Author.
The Author became known in the Word,
the One who came as Emmanuel, God with us,
born as One with us, living among us,
teaching, healing, weeping and sharing with us.
Living the life of Compassion and Justice,
The Word was rejected by the world and executed…
Christ has died.
Christ is risen.
Christ will come again.
Christ's coming again has begun
in the unfolding story of the Spirit of God,
in the continual seeding of new spiritual life in every age and place.
We see the work of the Spirit
in the service and self-sacrifice of so many.
We hear the song of the Spirit when people sing on balconies.
We breathe the breath of the Spirit,
knowing some are breathing through the creativity of digital
photocopying and scientific imagination.
We wonder at our coming into a spiritual age previously unknown.
Yet, our story, is grounded in the story of Jesus of Nazareth…
Narrative of Institution
The Lord Jesus, on the night of his betrayal, took bread,
and after giving thanks to God,
he broke it, and gave it to his disciples, saying:
Take, eat. This is my body, given for you.
Do this in remembrance of me.
In the same way he took the cup, saying:
This cup is the new covenant sealed in my blood,
shed for you for the forgiveness of sins.
Whenever you drink it, do this in remembrance of me.
Every time you eat this bread and drink this cup
you proclaim the death of the risen Lord, until he comes.
Sharing
In this empty plate [lift and show],
we choose to see the world's hunger.
We remember that millions of people, this day,
lack bread for Communion, bread for breakfast, bread for life.
We acknowledge that we ourselves hunger, this day,
in ways that no earthly bread can satisfy.
Hospitable God,
meet us in our unmet hungers –
and help us to put our abundance
at the service of the poor.
In this empty cup [lift and show],
we choose to see the world's thirst.
We remember that millions of people, this day,
lack wine for Communion, fruit for juicing, water for life.
We acknowledge that we ourselves thirst, this day,
in ways that no earthly cup can quench.
Hospitable God,
meet us in our unmet thirsts –
and help us to put our fullness
at the service of the empty.
'Blessed are those
who hunger and thirst for righteousness,
for they will be filled.'                                                                 Matthew 5:6
In the name of Christ, Amen.
Invocation
Pour out the Holy Spirit on this empty plate, this empty cup, that they may be for us – even in their emptiness – the body and blood of Christ. So we may take his Life into our lives, and be taken and blessed, broken and given for the world.
The Lord's Prayer
Our Father in Heaven,
hallowed be your name
your kingdom come
your will be done
on earth as in heaven.
Give us today our daily bread.
Forgive us our sins,
as we forgive those who sin against us.
Save us from the time of trial
and deliver us from evil.
For the kingdom, the power,
and glory are yours now and forever. 
Amen.
Song: Comfort, Comfort, All My People (TiS 647)
Comfort, comfort all my people
with the comfort of my Word.
Speak it tender to my people:
all your sins are taken away.
Though your tears be rivers running,
though your tear be an ocean full,
though you cry with the hurt of living:
comfort, comfort.
Every valley shall be lifted,
every mountain shall be low,
every rough place will be smoother:
comfort, comfort.
Comfort, comfort all my people …
Though your eyes see only darkness,
though your eyes can see no light
though your eyes see pain and sorrow:
comfort, comfort.
Every night will have its morning,
every pain will have an end,
every burden will be lightened:
comfort, comfort.
Comfort, comfort all my people …
Words and music © R. Mann
CCLI Licence # 260394
Offering
The offering will be used for the congregation's continuing mission and ministry including young people and youth ministry in these changing times. Please make your offering through a Bank Deposit or a personal cheque whichever is convenient to you.
Account Name: Boronia Park Uniting Church
BSB: 634-634
Account: 100023784
Reference: Offering  
Please contact Robyn Harvey, Treasurer on 0418 783 290 or robyn.49@bigpond.net.au for more information about how to make Direct Debit.
Announcement
Next Sunday 13 December – ADVENTure Worshipespecially for Sunday School students and families.
Donation needed and still receiving. Your donation will be received on Thursday between 10am-2pm and on Sunday that you may come. Please join in showing your generosity by giving donation. We thank to those giving generous donation.
Benediction
The blessing of God Almighty,
the Father, the Son and the Holy Spirit
be upon you and remain with you always.
Amen.
Sung Blessing: Go in peace, go in love
Go in Peace, Go in Love
Let's find joy with each other.
Go in Peace, Go in Love,
We are sister and brother.
Fed by Spirit with strength each day
to find our way together
Go in Peace, Go in Love,
God be with us forever.
Music: Tune of Edelwiss
Words: Mary Louise Bringle