THANKSGIVING SERVICE FOR 
FLORA MARGARET HEATHER MCDOWELL
9TH JULY 1932 – 20TH DECEMBER 2020
Then Jesus said,
"Come to me, all of you
who are weary and carry heavy burdens,
and I will give you rest"
Thanksgiving Service Part 1
Thanksgiving Service Part 2
GREETING AND OPENING PRAYER
My name is Seung Jae Yeon, the minister at Boronia Park Uniting Church and it is with mixed emotions that I welcome you to this service of thanksgiving for the life and Christian conviction of Heather McDowell. We gather together to give thanks for the person that Heather was and the way that she influenced and added to our lives.
Heather was a very special part of our church family. She was always there with an encouraging word or a welcoming gesture. She loved joining us in worship and fellowship. Heather really loved us and we loved her. I can't be sad for Heather because she is now creating the same environment for the saints in heaven where all are loved and welcomed, but we are going to miss her so much.
That is the other reason why we gather today – to share together in our sorrow and loss and to offer each other, and especially Meridith, Bronte and Ben, Toby, Joshua, Robert and Vicki, Rachel and Cal, and Jackson (He was in Brisbane, QLD during the service) with our love, prayers and support.
I want to affirm while Heather's passing may be difficult that, as Christians, we believe that death is not the end but rather it marks a new beginning in our relationship with God. Jesus, during his time on earth, spoke a lot about death and life. One time he said these wonderful words…
I am the resurrection and the life;
those who believe in me, though they die,
yet shall they live;
and whoever believes in me
shall never die.
Later, in the bible, the Apostle Peter wrote:
Praise be to the God and Father of our Lord Jesus Christ!
By his great mercy
he has given us new birth into a living hope
through the resurrection of Jesus Christ
from the dead.
Let us hold onto these promises, as a source of hope, as we move through this time of celebrating Heather and all that she has given us and also grieving the loss of what we had and what is still to come.
Let us pray:
O Lord God,
we do give thanks to you for the life of Heather,
but we want to acknowledge
that the pain of loss is very real.
Stretch out your loving arms
and comfort those who are grieving today.
Come to us today and give us the assurance
that in both life and death,
we are surrounded by your love.
May we find peace in you
and find hope in knowing that Heather is with you.
Come through your Holy Spirit
and strengthen us at this time.
Father, forgive us
if there have been times when we failed Heather,
for the times we have said or thought things
we now regret.
Enable us by your grace
to forgive anything that was hurtful to us.
Lord, have mercy on us;
and grant us healing and wholeness;
through Jesus Christ our Lord.
Amen.
HYMN: Come as you are
Singer: Isabella Lee, Accompanist: Grace Song.
'Come as you are: that's how I want you.
Come as you are; feel quite at home,
close to my heart, loved and forgiven.
Come as you are: why stand alone?
'No need to fear, love sets no limits;
no need to fear, love never ends;
don't run away shamed and disheartened,
rest in my love, trust me again.
'I came to call sinners, not just the righteous;
I came to bring peace, not to condemn.
Each time you fail to live by my promise,
why do you think I'd love you the less?
'Come as you are; that's how I love you;
come as you are, trust me again.
Nothing can change the love that I bear you;
all will be well, just come as you are.'
Words and music by permission
Spectrum Publications, Melbourne
CCLI #260394
WORDS OF REMEMBRANCE
Meridith McDowell-Jones
Heather, Flora, Mum, Ma, G-ma, Grizzles, she had many alias's and was happy to answer to them all.
Mum was born Flora Margaret McDonald on 9th July 1932, in the Seacombe Private Hospital in Drummoyne, to Bob and Rene McDonald, she was the middle child with an older brother Graham & a younger sister Stella. She was born back when Boronia Park was mostly paddocks and bushland, when there were a few houses in Earl Street, literally. There are not many that can say they entered and left life in the same house.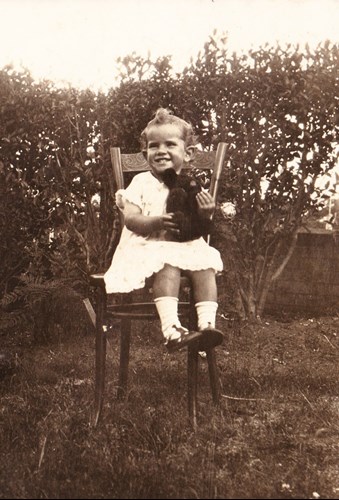 when she was a toddler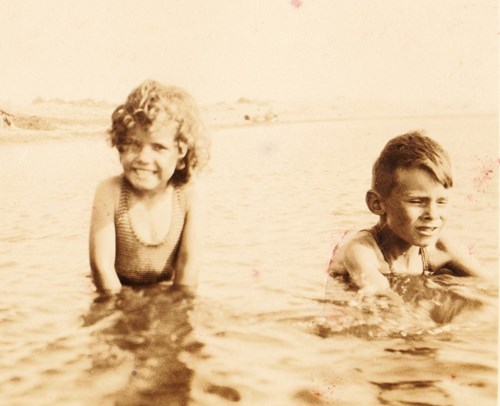 Heather in the water with her older brother Graham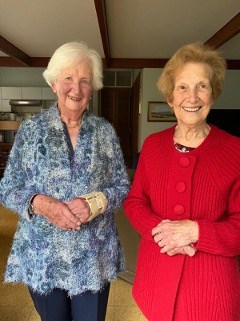 Younger sister Stella and Heather (November 2020)
The name Heather was added when she was in her 20's. Her boss hated the name Flora, said it was too old fashioned and wanted to replace it with a Scottish name, thus Heather. The name stuck which was just as well as there was already a Flora McDowell in the family, Dad's sister. You could always tell at what stage of her life people knew her by, by what they called her.
Growing up she had black/brown eyes and hair which had Shirley Temple curls, the polar opposite of her sister, who had very blond, straight hair and blue eyes. When she was young mum's curls were kept under control with the help of rags and then when she was in her late teens/early 20's she straightened the curls with the help of an iron….as in a clothes iron.
Her father was quite strict and had very firm ideas – one being a woman should not have painted nails. Apparently, Mum had her nails painted when she was in the city working for the Department of Education. She was still living at home and when her Dad noticed her hands, he simply asked her to come with him to the garage and promptly took out the paint stripper and removed all trace of the nail polish, much to Mum's disappointment.
Mum was a people person; she felt her family were happier at home, especially when Stella was small, making things or reading books. Mum preferred to hang out with people so she was "adopted" by a young couple who lived down the street. (Mary & Harold Parkin) who didn't have children until later in their married life but were very social and gregarious. Mary took her to concerts in the city and to the movies, any outing really. The Parkin's were friends of our grandparents and they thought Mum was the sun and the moon until they had their first child. We think mum's nose was out of joint at this – not that they didn't love her just the same but she had competition for their attention. Her rival was their daughter Val, but they quickly became friends and they remained close till Val passed away.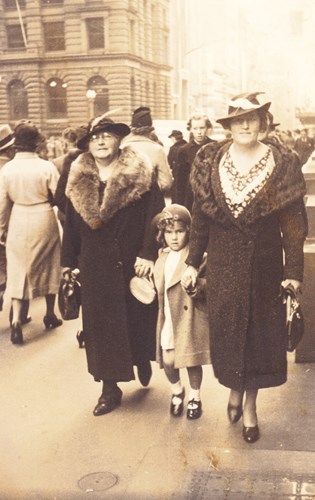 Heather with Parkins
She was one of the earliest students at Boronia Park Public School and then went on to attend Riverside Girls High. At the time it was a domestic finishing school, where all the skills and knowledge that a future wife and mother needed, were learned. Who would have thought that laundry could warrant being a subject at school, but to be fair there were no modern appliances, as we now know them, back then. Who knows it may well have been an extension class, either way, it instilled a certain level of importance in mum. Mum would always want to help out with the domestic duties where she could, and a pile of crumpled clothes were never safe. Shirts, singlets and even undies were left wrinkle free. She also had a very high standard for the dryness of clothes, there was the grandchildren's dryness (straight out of the washing machine, our dryness (essentially dry), but this rarely reached the dryness that mum would be happy with, it appeared this could only be achieved by a Grandmother's magic, or with an autoclave oven.
She was elected school captain in her final year at Riverside, not that she volunteered for the position, that wasn't quite mums' style, but she must have been popular and obviously others in authority could see she had the qualities of a leader and a role model.
After finishing school, she completed a secretarial course and was fortunate to obtain employment with the Department of Education, as a Personal Secretary for one of the Directors.  She enjoyed the work there, where she met and kept some lifelong friends.
Her connection with Boronia Park Uniting Church started very early in her life when neighbours offered to take her around the corner to the Methodist Church Sunday School when her sister was born. Her mother used to take her to the Presbyterian Church in Gladesville – a good walk for a small child. We believe her mother's plan was to stop going there when her sister was old enough to walk to Sunday School but that didn't happen – mum was entrenched in Sunday School life and she stayed. Mum really enjoyed the Sunday school and the youth groups that followed, her whole social life seemed to revolve around the church youth group. Looking at mum's photo album you could see that fun and comradery was in abundance. This was a very enjoyable period for mum. From this point on mum's life would revolve around the Methodist and later the Uniting Church in one way or another.
It was at Church and again at church camps that she would encounter a dashing young minister, Ken McDowell, whom she would spend the rest of his life with. It was a very strong union, both being devoted to each other. Surprisingly, the courtship was drawn out over many years. We hadn't realised, until very recently, that mum was not very keen on the idea of becoming a minister's wife, she questioned not the man but the duties that would be demanded of the man and the time that she and her family would be denied. She obviously enjoyed his company and must have had some romantic feelings for him, however she thwarted any of his advances. She was surprisingly strong willed, and would certainly stand her ground on what she thought.
Mum and Dad attended many church camps at Otford, behind Stanwell Tops, south of Sydney, both before and after marriage. She recounted recently, with a smile, one afternoon when Ken had suggested a walk up to a local lookout during some free time, he was obviously attempting to make his intentions more well known to his distant suitress. Mum agreed, and they decided to meet shortly at a set location, Dad must have been devastated to arrive at the departure point to find mum, and a half a dozen or so of their friends waiting for him, mum had taken the opportunity to rally the troops so to speak, to enjoy the walk. I dare say the romance didn't progress much further that weekend. Again, mum never really clarified whether her inclusion of the others was an innocent misread of Dads intentions or a deliberate interference.
He finally managed to win her over and they married in March 1957, after a 3-month engagement, she figured she had kept him waiting long enough.
They moved to Orange and I was born in the winter of 59. She learned early on that to be socially welcomed as a minister's wife you had to drink tea or coffee…she drank neither… so she forced tea down milky and sweet. With time she learned to love her cup of tea but it had hardly any milk and very little sugar, over the years it seemed that tea was the only thing she did drink.
We then moved to Inverell where Rob was born in 1962. It seems here, that Mum had the best time. There were heaps of young couples their age and a lot of young adults. She had the happiest of memories there with friends that stayed close for the rest of her life.
From there to we moved North Sydney for a few years and then to Gordon (our last church home). 
In the early 70's we moved back into her family home in Boronia Park. She was really excited to be in her own home and I recall coming home from school one day to find a new pine lounge, a glass topped table and chairs. I couldn't believe she had spent the money (Rob and I both seem to have inherited the Scot gene).  Mum on the other hand was overjoyed- it was the first piece of furniture that was 1. New and 2. She and dad had chosen them.
Mum was many things a daughter, sister, cousin, friend, wife, mother, grandmother, private secretary to a CEO, knitter, sew-er, upholster, gardener, floral arranger, singer, slice maker.
She was loyal to a fault, humble, caring & willing to make sacrifices for others and she attracted kind and loyal people wherever she went and kept friends forever.   When her cousin was dying, some 12 months ago, she slept for 9 nights on a makeshift stretcher on the floor at the end of her bed. Not wanting her to be alone in her final hours. Prior to that she would make the weekly trip by 2 buses & a train to visit for a few hours, spending more time in transit than being with her.  She and Dad also moved up to Coffs Harbour to help look after my sister-in-law Vicki and her 2 very small children while she was having chemo and Rob was working.  She looked after her father when he was sick and at the same time was caring for 2 small children and a husband who was often away working.
She made many sacrifices for us. When I graduated I asked mum to pick up the event photos in town, though she was working in North Sydney…she did this without complaint, days later she would be in hospital having 6 units of blood as she was so anaemic. I asked her how she managed to walk all that way and why she didn't say she couldn't, she admitted that she thought that she wasn't going to make it but she didn't want to disappoint me by coming home without the photos. But that was MUM.  One time, her and Dad went to pick up a new zipper for Rob for his wetsuit (he was living in Coffs Harbour), unfortunately they got the address wrong and ended up in a brothel much to our amusement, in future recounting the story. But the brothel was very helpful with their plight.
She was a beautiful looking woman with grace, poise & style– I remember looking at her on many occasions and thinking she was the best dressed and most elegant woman around.  She had fine, long fingers and her nails were always beautifully manicured, sometimes even with coloured polish!
Mum always appeared to be in dad's shadow to some extent. But she showed great determination and resilience to look after dad when he was sick. After dad passed away, we were concerned how mum would cope, but again she surprised us with her independence and her ability to carry on living alone at home, buying a new car and running and maintaining the house and garden.
She loved nature, she loved being in her garden pottering, collecting seed pods, shells and anything natural. She also loved animals and birds. When Mum went up to Coffs to stay she would spend hours rubbing Georgie's belly…to the point where her thigh muscles would ache and Georgie loved mum…so much that when she sat on the verandah Adirondack chair, the dog would slowly get up into the seat and sit watching mum read.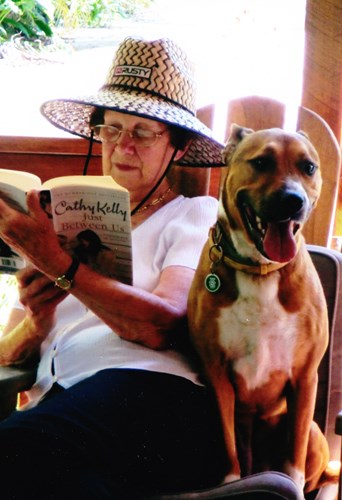 Heather and Georgie. She loved rubbing Georgie's belly.
She feed kookaburras and her magpie family…they would sing outside her back window till she came out to feed them. She even babysat, my daughter, Bronte's turtle when Bronte and Ben went away…assuming she would give it food and walk away…they later found out that she sat with the turtle every day so he wouldn't be alone.
She was always popular with people and pets, doting on both, and probably more the latter, later in life, and who doesn't like their belly rubbed? Mum was not the life of the party popular, but she was popular in more of a reserved way. She had the ability to connect to a person on a one on one basis. If she was with her young grandkids she would be down on their level and really engaging them.
Mum quite often did not directly offer her thoughts, advice or grievances in advance, however if you crossed the line, her line, she would remind you in a not so subtle manner with her slightly off-beat sense of humour and a hint of sarcasm. Mum knew how to "burn someone". I think everyone in the family has been "burned" at least once by mum.
Not long after Rob left high school and while still living at home, one evening he may have imbibed in one or two too many alcoholic beverages as a young adult is prone to do, before being woken up on the bathroom floor in a dreadful state by mum. Her immediate response was for his welfare of course, but once that was ascertained, she promptly broke out with a loud rendition of "I feel like a Tooheys, I feel like a Tooheys, I feel like a Tooheys draught brew" one of the popular beer jingles at the time, she must have liked the tune for she sung it for the rest morning.
Mum's wry sense of humour which we only discovered later in her life and which was often very evident particularly during large family gatherings. One Christmas a granddaughter subtlety gloated about her ability to fit into her new size 8 jeans. This inspired mum, who had lost considerable weight during dad's care, to secretly slip into said jeans herself and to, not so subtlety, strut her stuff, leaving us all in hysterics. On other similar occasions, she also secretly slipped into another granddaughter's newly received and very revealing night club dress, or having her photo taken by her grandson Josh in gangsta clothes and stance, which he would show his mates – they thought "Grizzles" was great.
What she was NOT, was a limelight seeker (though she was captain of her high school) She loved singing in the choir, but she never wanted to be the soloist. When she did the flowers at church she would go before anyone was there and place them, not seeking or wanting compliments. She would be in the one in the kitchen preparing or washing up. She was the ultimate quiet achiever.
She was hopeless at taking photos – but took best shot ever (in my opinion)….loads of really blue sky & right at the very bottom of the photo were our heads…from the chin up.
She was not a complainer- rarely grumbled about her health-though she had bowel cancer surgery in aged 49. Then uterine cancer aged 56. An aids scare due to the large amount of blood transfusions not long after. Nor the lymphoma that eventually took her life….though she did say she was sick of the dying process and that it was taking too long. She felt like a fraud when first told she had weeks to live and kept telling the nurses that they should be seeing the really sick folk.
She was also hopeless at watching movies that didn't have an obvious plot – just couldn't understand the subtlety which used to make Dad & I laugh.
Whilst Rob & I were growing up, we didn't think she was very "exciting" – not like some of our friend's mums but when we had grown up and had family of our own we would enjoy watching her with the younger generation. She was loved by her grandchildren and their friends. At Bronte's wedding she had all the young single guys lining up to dance with her. She was the last to leave the dance floor.
We didn't think of her as sporty though she played tennis a lot from when she was a teenager up until we were in high school.  When Rob was in primary school he challenged her to a running race, very confident he would win by miles (it was from the end of the block to home) mum took off and bolted home much to Rob's surprise that she beat him– Rob wanted a best of 3 but Mum wouldn't have it. Much later she told us that she thought she was going to have a heart attack but wasn't going to show Rob that.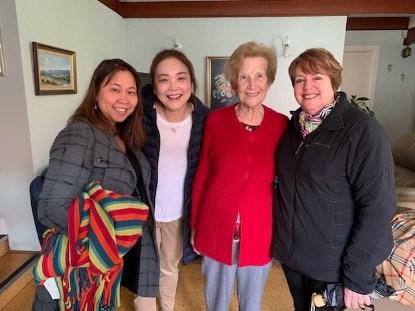 Lenny, Grace, Heather and Rosemary (November 2020)
She was a mentor without trying to be. Seung Jae's wife Grace told her just weeks before she died that when Grace had first arrived as the minister's wife to a new church with English as a second language, she was unsure what her role should be or what she was expected to do. At the end of one of the services, she went up to Grace and said…you are doing a great job…don't try to be a minister's wife just be yourself…just be Grace. This was life changing for Grace but Mum was completely unaware of what her kind and profound words meant to Grace.
Like many people of her generation mum struggled with the latest technology, particularly social media, to her credit she did manage to get functional with texting and facebook which enabled her to be more a part of her family and friend's lives. Once she got the hang of texting, cards and phone calls were obsolete. Why send a birthday card when a simple text was sufficient to acknowledge one's birthday or anniversary? However, her use of emoji's was intriguing. Emoji's are a great way to clarify the tone and emotion of a simple text, to make the reader aware if the sender is happy, sad or angry. But mum seemed to have a quest to use every emoji equally, so as not to discriminate against any emoji. Consequently, random emojis would appear at the end of her texts, "Happy Birthday Rob", camel emoji? and "Looks like you have had a big storm today", corn emoji?
Mum always claimed she was the "wild one" of the family, but she always played her cards pretty close to her chest and never backed the statement up with any juicy stories. We would always have a little smirk when this was claimed, from our personal experiences with mum "wild" was not the first characteristic that came to mind. Her sister Stella said, and I quote "She wasn't disobedient, but she could climb and swim and run and was eager to try anything on offer in outdoor pursuits.  We spent just about all the time we weren't in school, outside."   She was surprisingly adventurous as a young adult too, taking numerous holidays with her girlfriends and her sister Stella to Blue Bay on the Central Coast. Fancy dress was a popular activity, at least for the camera, and watermelon was the vice of choice. Travel to and from was of course by public transport, the trip taking a good part of the day. She also travelled around Tasmania with four of her friends hiring a driver and his car for the duration. But she would worry about us hitch hiking?
Mum had a strong faith that sustained and fulfilled her throughout her life, and she was not afraid to die. She was very lucky to quickly and peacefully pass away at home with most of our family present.  We are grateful that care was able to be provided at home and that we were able to provide that for her. 
Her GP Dr Kathy Turner attended to complete the formalities and after leaving was kind enough to alert us to the beautiful pink and maroon sunset that was in progress and suggested that mum might have been putting on one last show. It may not have had the balance and poise of one of her flower arrangements, however it was as natural, beautiful and elegant as she was. Now we have a regular positive and beautiful reminder of her presence, but she will be greatly missed.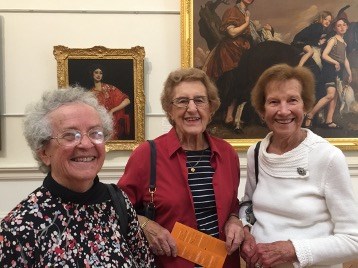 Sharnie, Esma and Heather at NSW Art Gallery (October 2019)
I will miss her being the only person who remembers everything correctly…now I will never know when my kids got their first teeth or what they sang at concerts. I will miss her singing.  I used to love sitting between mum and dad in church when they sang – it was like having my own choir surrounding me. I will miss her slices & her wild rice salad. I will miss her smile and her appreciation of her family and even her forthrightness. In her last week when she was hardly talking, I walked into her room with a slice of cake. With a raised eyebrow and a smirk she…..yes always a mother worried about her children. She used to thank me every night for all the things I had done for her & I always replied that I still hadn't caught up repaying her for all the things she had done for me.
She influenced us all – much more than she will ever know.
Mum didn't want a funeral – didn't think that she was important enough in anyone's life and thought no one would come – a lot of family and friends have departed before her but twice the amount of people who are attending today couldn't come due to the restrictive numbers and due to border closures some family are unable to be here …..see I told you mum.
BIBLE READING:

 

Psalm 139
For the choir director: A psalm of David.
1 O Lord, you have examined my heart
    and know everything about me.
2 You know when I sit down or stand up.
    You know my thoughts even when I'm far away.
3 You see me when I travel
    and when I rest at home.
    You know everything I do.
4 You know what I am going to say
    even before I say it, Lord.
5 You go before me and follow me.
    You place your hand of blessing on my head.
6 Such knowledge is too wonderful for me,
    too great for me to understand!
7 I can never escape from your Spirit!
    I can never get away from your presence!
8 If I go up to heaven, you are there;
    if I go down to the grave, you are there.
9 If I ride the wings of the morning,
    if I dwell by the farthest oceans,
10 even there your hand will guide me,
    and your strength will support me.
11 I could ask the darkness to hide me
    and the light around me to become night—
12     but even in darkness I cannot hide from you.
To you the night shines as bright as day.
    Darkness and light are the same to you.
13 You made all the delicate, inner parts of my body
    and knit me together in my mother's womb.
14 Thank you for making me so wonderfully complex!
    Your workmanship is marvelous—how well I know it.
15 You watched me as I was being formed in utter seclusion,
    as I was woven together in the dark of the womb.
16 You saw me before I was born.
    Every day of my life was recorded in your book.
Every moment was laid out
    before a single day had passed.
17 How precious are your thoughts about me,[b]O God.
    They cannot be numbered!
18 I can't even count them;
    they outnumber the grains of sand!
And when I wake up,
    you are still with me!
19 O God, if only you would destroy the wicked!
    Get out of my life, you murderers!
20 They blaspheme you;
    your enemies misuse your name.
21 O Lord, shouldn't I hate those who hate you?
    Shouldn't I despise those who oppose you?
22 Yes, I hate them with total hatred,
    for your enemies are my enemies.
23 Search me, O God, and know my heart;
    test me and know my anxious thoughts.
24 Point out anything in me that offends you,
    and lead me along the path of everlasting life.
This is the Word of the Lord.
Thanks be to God.
WORDS OF ENCOURAGEMENT
Reverend Seung Jae Yeon
It is a great honour to be able to share in this service today. I have had the privilege of journeying with Heather at Boronia Park for 7 years and have been a recipient of Heather's love and care, encouragement, wisdom and friendship that all are still forming and transforming my life.
Heather was a very special member at Boronia Park. She joined into Sunday worship services and all sorts of church activities with full of passion. She shared her loving kindness and wisdom gifts with us in her presence at Boronia Park. According to herself and many people's witnesses, she shared her gift of pastoral care by welcoming new families, calling them by their names, and whispering saying, 'You are going ok' like a wind passing thru garden. This time of year, she always came and said, "Seungjae, you have a new pair of glasses, don't you? It looks nice." Yes, she was the first one in our congregation noticing my little change on nose. I was going to say to her, "Heather, did you know that it is my third pair of multi-focal glasses. I may need a reading glasses next year. I am getting older!" She shared who she truly is with many of us. No one knew she worked and amended amongst people. But like a wind passing by, where she stayed and sit, people around her might have felt the love of God. We were so blessed to have Heather as a member of the congregation and each one's life book. We will feel her loss in a big way. But we know that our loss as a congregation is just a fraction of the loss that Meridith and Rob and their families are feeling.
And that is why death is such a difficult time. We want our loved-ones to be physically near to us, and when someone we love dies, it leaves a hole. That is why death brings sadness and grieving. We are sad about the loss of what we had, and we grieve over the loss of what was still to come. 
Yet even in the midst of our grief and loss, I believe that we can find hope in the promises of God.
In our Bible reading, which is Heather's favourite passage, we heard a psalmist singing a song which expresses confidence that God be always with us everywhere, no matter what we are. And this powerful and affirmative psalm describes the confidence that the believer may have through all sorts of dangers and challenges in God and with God who dwell in our life.
This psalm also encourages us as well as the first audiences to find refuge in God and to be covered by His divine wings when there seem to be no hope. Just like us, they were grieving and feeling deep loss – and it was into this dark place that God in the psalm reminded them of his everlasting love and presence in his protection. In lines 9 and 10, it says,
If I ride the wings of the morning,
if I dwell by the farthest oceans,
even there your hand will guide me,
and your strength will support me.
Even there God's hand will guide us and support us. God in times of trouble will never let you down when you hold fast to Him in love, when you know His name and when you call Him. God in this psalm continues to make pledge to care his faithful ones, fulfilling his sincere promise toward those who are faithful to Him. He will deliver, protect, answer, rescue, attend us in trouble. And even He will honour us. What a blessing! And then the psalm singer keeps singing, asking God to lead the journey of faith along the path of everlasting life.
Do you taking the journey in God? Are we with each other in the path of everlasting life? Now I, with you all, am struggling because my dear friend Heather is not with me face to face and skin to skin. But there is no doubt that in my grief I am seeking to find God's everlasting life that is promised in the psalm. His unfailing kindness draws us close. So, let us hold fast to God no matter what. Let us hold onto these promises of God and use them as a source of hope at this time of missing Heather and grieving the loss of her.
This psalm and its words might have been written so many years ago but they still speak to us today. As a Christian I believe that God is still at work in this broken and ever-changing world; that God is picking up the shattered pieces of people's fragile lives and of our communities and God is rebuilding hope in His way – making things good again in His mighty and creative works, His presence. I believe that Heather would have experienced this in her own life. She observed the time of history, ministry of churches and Christian communities, from the time when there were a few houses on Earl Street to the time where changes and challenges in the pandemic might threaten us. While everything was changed, she held fast to God and made the Lord her source to give courage and encourage many people. Then she continued to invite people to seek to find the same source, the God of everlasting life, in her family, friendship and fellowship, and here at Boronia Park Uniting Church. So today we celebrate that Heather had undergone the fulfilment of God's promise and blessing by stepping into the everlasting life where she lives now. That somehow through the everlasting life, I hope that God will turn our mourning into dancing. Instead of sorrow, we may discover how much Heather loved us as God loves the world. This is my prayer today.
Thanks be to God.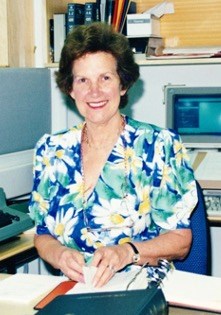 Heather at work
PRAYERS OF THE PEOPLE
Rosemary Brook
Heavenly Father,
We gather today - family, friends and our church family- to honour and thank you for the very great blessing of having dear Heather in our lives.
Heather has been such a gracious, loving, thoughtful and creative presence for us - a lady of deep and abiding faith and commitment to you O Lord. She has been very much loved by all who have known her.
A lasting memory is a gathering late last year of young ones, and young at heart ones from our church -as well as dear family members- at Heather's home as we shared our love for her through songs and reminiscences. We were all so moved as Heather lovingly named each person there. We thank you for this beautiful, cherished memory and the songs sung then are ones we sing again today. We thank you.
We thank you for Heather's wisdom, generosity, care for us and for all those she has touched during her life. She had a wonderful gift for maintaining close and enduring friendships, often over many decades. Heather has always been a person of deep integrity and we are so grateful for her abiding friendship.
My own extended family treasures Heather's long association with our family and this local community as well as her hospitality, her goodness, her devotion and her always open-hearted welcoming of others.
We thank you for Heather's contribution to your church over her lifetime and in various places…..and here at Boronia Park, Heather was known for being a wonderful and generous helper always without any fuss or thought of thanks – and over many years.  Her help included supporting community projects through our Synod's Stamp Committee; preparing communion for us; and we all recognised her artistry in the beautiful flower arrangements she created to enhance our worship. As in all things, her care was deeply founded in her faith.
At this time, we also remember Heather's wonderful husband and friend, Ken. We believe they are now together in your loving presence in Heaven.
In closing, Lord, we thank you for your immense and unwavering love for each one of us; for the comfort you bring to all those who cherish Heather and are feeling her deep loss. Be especially close to Meridith and Rob and Stella; to Bronte and Ben, Toby and Joshua; to Vicky, Rachel and Cal and Jackson; and all their family who cared so tenderly for Heather. Be also especially close to so many dear friends of Heather's and her beloved church family.
If the Kingdom of God is in you, you should leave a little bit of heaven wherever you go, claims the American philosopher and Christian, Cornel West. We all love Heather and she has certainly done this.
May we hold in our hearts Heather's faithful, loving life; her kindness and gentleness and all she has given us through her life and example.  And we know through Heather's recent fortitude, courage and faith - and you O God…not to be afraid. All will be well.
In Jesus name we pray, Amen.
LORD'S PRAYER
Our Father in heaven, hallowed be your name,
your kingdom come, your will be done,
on earth as in heaven.
Give us today our daily bread.
Forgive us our sins,
as we forgive those who sin against us.
Save us from the time of trial
and deliver us from evil.
For the kingdom, the power, and the glory are yours
now and for ever.
Amen.
SONG: Who is this Man?
Singer: Seung Jae Yeon, Accompanist: Grace Song.
Who is this man, who gathered people to him,
and touched their lives along each dusty way;
who spoke to all with passion and with peacefulness
and valued all their ordinary days?
Who is this man, who, at the long day's ending,
would draw apart to wait on God and pray,
and, in that mystery that knows no ending,
would find God's wisdom and would know God's words to say?
Who is this man, who gave to women dignity
in partnership of worth and equal grace,
who listened to the stories that they told him
and honoured all, whatever was their place?
Who let them choose to come and join his company,
and learned with them God's love for every race,
who showed to each the courage of their nature
to care and tend each lonely and each suffering face.
Who is this man, who spoke to men of gentleness
and showed them all the children at this side;
who taught of love and justice for all people
and took a towel and washed away their pride?
In him they saw the strength of truth and mercy,
and how he trusted God to be his guide,
knew how he led them through misunderstanding,
and then forgave them when they ran away to hide.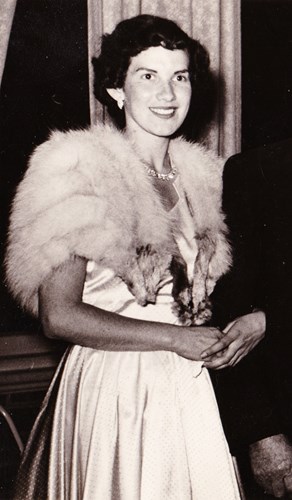 Heather out at Ken Sheldricks 21st
Who is this man who calls us now to follow,
a shadow presence asking us to be
companions on the way through this life's journey,
to live in truth, to set our tired world free?
So let us find each other now in partnership
with ears to hear and eyes awake to see,
that we might grow in grace and understanding
and walk beside that man who comes from Galilee.
Words: Mary Pearson
Music adopted from Londonderry Air
COMMENDATION
Heather, we now commend you
to the love and mercy of God:
go, go home to be with your Lord.
May the angels come to guide your path
may Jesus, the good shepherd protect and comfort you
may God the Father welcome you into eternal glory
and may all heaven rejoice when your Father says,
"Well Done good and faithful servant."
Let us pray:
God of eternal light,
we commend Heather to you.
Now that she has passed from this life,
may she know the light of your presence.
Give us such faith
that, by day and by night
in all times and in all places
we may without fear
entrust those who are dear to us
to your never-failing love,
in this life and in the life to come;
through Jesus Christ our Lord.
Amen.
Lord God,
as hard as it is for us to let go,
we give Heather over to your loving care.
Amen.
CLOSING PRAYER AND BLESSING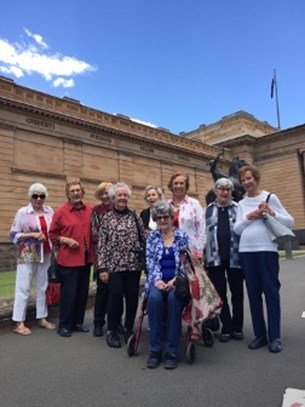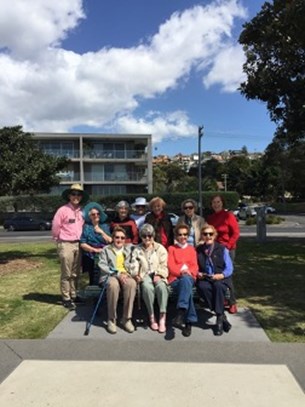 Heather with church friends during bus trips (2019):
at NSW Art Gallery (top) and Balmoral Beach (bottom)
Let us pray:
You, God, are the Lord of life and death.
In the life, death and resurrection of your Son, Jesus,
you have made us think differently about our own death.
Sometimes it's hard, but we're trying to understand
that death is not your final word,
that there is yet more to come, a most glorious more.
But we grieve that death will separate us
in our time and space, because we're human,
and loving relationships matter to us.
It's not easy for us to yield someone we love,
even to you, our loving Father,
so help us to unclench our hands,
and release them into your grace.
Comfort us with the love of your compassionate heart,
and reunite us at the end of time, in your realm.
In the name of Christ.
Amen.
The blessing of God Almighty
the Father, the Son and the Holy Spirit,
may be with us,
comfort us and sustain us during this time.
Amen.
SONG: May the feet of God walk with you
Singer: Isabella Lee, Accompanist: Grace Song.
May the feet of God walk with you,
and his hand hold you tight.
May the eye of God rest on you,
and his ear hear your cry.
May the smile of God be for you,
and his breath give you life.
May the Child of God grow in you,
and his love bring you home.
Words © A. W. Podlich
Music © R. Mann
CCLI No. 260394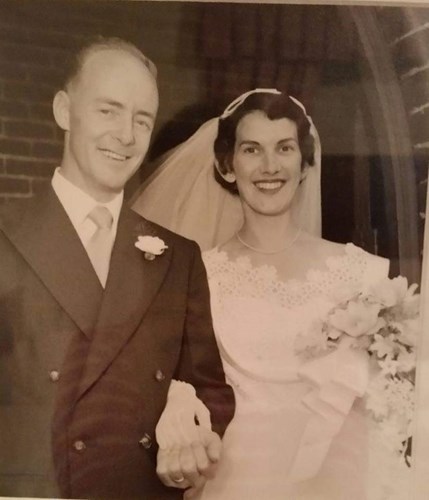 Ken and Heather McDowell. We believe that they are now together in Heaven.
The loss is immeasurable but also
immeasurable is the love left behind.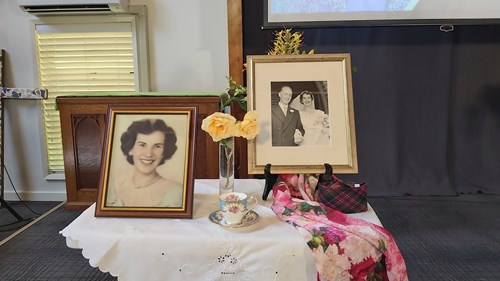 Heather McDowell Memorabilia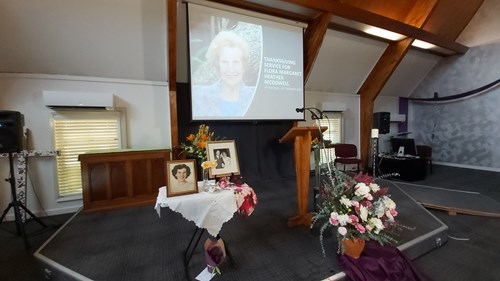 The front decoration with memorabilia and flower arrangements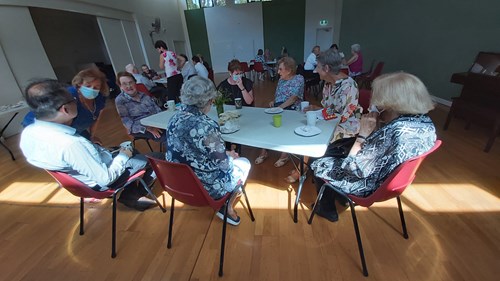 Refreshment at the main hall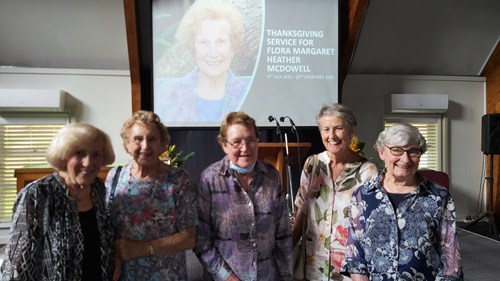 Neryll McAlpin, Esma Sheldrick, Elaine Davis, Sue Willard, Marilyn Bolton (from left)