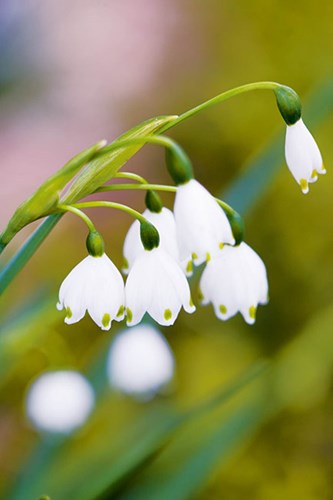 SNOWDROP
Snowdrops like to grow in the shade.
They're a great addition to any balcony garden as they flourish in containers.
Photo: Scott Hawkins
(From website "12 Best Winter Flowers")
Important Announcement
We are getting ready to return to church!
Boronia Park Uniting Church has been considering public health advice and the needs of our members and guests.
The Synod of NSW and the ACT has been meeting regularly to discuss the current issues and plan for the gradual relaxing of regulations. As the result, with the state government's guideline, we are now able to create a safe path to reopening some church activities including Sunday worship service.
The Church Council has discussed what we should prepare before reopening.
Please be patient as we are getting back to a new normal.
While creating and preparing for reopening, physical distancing is required and all worship resources will be continued online.
More information on the Synod Website Here to click/tab
Preparing for Worship
We are a Church known to the nation and the world as Uniting Church in Australia. The Uniting Church celebrated the formal union of the Congregational Union of Australia, the Presbyterian Church of Australia and the Methodist Church of Australasia on June 22nd, 1977, under the Basis of Union.
So, THIS WEEK we worship God, giving thanks to God for all that He has done within us last forty 42 years. We are called to serve each other though we are challenged by the situation of COVID-19 pandemic. Church belongs to its faithful people who listen for the Word and act for the world. We are Church so let us hope and love with each other as Christ has done for us.
Acknowledgement for the First Peoples
We acknowledge the traditional custodians of this land, Elders past and present, on which we gather today. We recognize their special relationship with the land and all creation.
Greeting to Members   Robyn Harvey 
We greet each other, especially those who is listed on the sixth page of the Congregation Directory. I would like to call them by name:
Neryll McAlpine,
Heather McDowell,
Colin and Margaret Maxwell,
Misun, David and Nicholas Panetta,
Ronald and Judith (Judy) Robinson, AND
Frances Scott
And in our imagination, let us have big waving hands to each other.
Call to Worship

 

Psalm 122:6-9
Pray for peace in Jerusalem.
    May all who love this city prosper.


O Jerusalem, may there be peace within your walls
    and prosperity in your palaces.


For the sake of my family and friends, I will say,
    "May you have peace."


For the sake of the house of the Lord our God,
    I will seek what is best for you, O Jerusalem*.
* This is not the city called Jerusalem in Israel. In Old Testament, Jerusalem is like a spiritual homeland of the Jewish people, being considered as a holy city, the centre of the world where God resided.
We, as Church, may wish to deliver God's peace to each other and to the world.
Let us worship God.
Assembly Song 1     The Church's One Foundation (457)
Verse 1
The Church's one foundation
Is Jesus Christ her Lord:
she is his new creation
by water and the word;
from heaven he came and sought her
to be his holy bride;
with his own blood he bought her,
and for her life he died.
Verse 2
Elect from every nation
yet one o'er all the earth,
her charter of salvation
one Lord, one faith, one birth:
one holy name she blesses,
partakes one holy food,
and to one hope she presses
with every grace endued.
Verse 3
Through toil and tribulation
and tumult of her war
she waits the consummation
of peace for evermore,
till with the vision glorious
her longing eyes are blessed,
and the great church victorious
shall be the church at rest.
Verse 4
Yet she on earth has union
with God the Three in One,
and mystic sweet communion
with those whose rest is won.
O happy ones and holy!
Lord, give to us the grace
Like them, the meek and lowly,
In heaven to seek your face.
Samuel John Stone
CCLI #260394
Prayer of the Day
"Prayer for the Uniting Church in Australia" written by President Dr Deidre Palmer in 2018.
Let us pray:
Gracious and loving God,
We thank you for the Uniting Church in Australia,
for the ways your Spirit empowers us
to participate in your liberating mission in the world.
You call us to be your Pilgrim People,
responsive to your leading,
as we witness to your reconciling love in our communities.
At this time in our life as the Uniting Church,
May your Holy Spirit weave us together as the Body of Christ,
a community of grace and hope.
Renew and strengthen us as your Church –
Where there is hurt and pain,
bring your comfort and healing.
Where we have caused hurt to one another,
bring forgiveness and reconciliation.
Where our community and unity are strained,
give us patience to listen to one another,
to see your presence in one another,
and to love our sisters and brothers in Christ,
as you have first loved us.
Where there is uncertainty and confusion,
bring your guidance and light.
Lead us forward in ways that are faithful
to your mission in the world.
We pray for our Congregations and Faith Communities,
that they may be a source
of your healing, hope, compassion and love,
and welcoming and hospitable places
to worship and serve.
Send your Holy Spirit upon us,
fill us with passion for Christ's mission,
so that we will be courageous bearers
of God's good news of love,
justice and healing in your world.
Through Christ we pray.
Amen.
"Now to him who by the power at work within us is able to accomplish abundantly far more than all we can ask or imagine. To him be glory in the church and in Christ Jesus to all generations, forever and ever." (Ephesians 3:20-21)
Scripture Readings
First reading comes from Hebrews 13:1-8 (New living Translation).
Concluding Words
13 Keep on loving each other as brothers and sisters. 2 Don't forget to show hospitality to strangers, for some who have done this have entertained angels without realizing it! 3 Remember those in prison, as if you were there yourself. Remember also those being mistreated, as if you felt their pain in your own bodies.
4 Give honor to marriage, and remain faithful to one another in marriage. God will surely judge people who are immoral and those who commit adultery.
5 Don't love money; be satisfied with what you have. For God has said,
"I will never fail you.
    I will never abandon you."
6 So we can say with confidence,
"The Lord is my helper,
    so I will have no fear.
    What can mere people do to me?"
7 Remember your leaders who taught you the word of God. Think of all the good that has come from their lives, and follow the example of their faith.
8 Jesus Christ is the same yesterday, today, and forever.
Gospel reading is from John 17:20-26 (New Living Translation).
20 "I am praying not only for these disciples but also for all who will ever believe in me through their message. 21 I pray that they will all be one, just as you and I are one—as you are in me, Father, and I am in you. And may they be in us so that the world will believe you sent me.
22 "I have given them the glory you gave me, so they may be one as we are one. 23 I am in them and you are in me. May they experience such perfect unity that the world will know that you sent me and that you love them as much as you love me. 24 Father, I want these whom you have given me to be with me where I am. Then they can see all the glory you gave me because you loved me even before the world began!
25 "O righteous Father, the world doesn't know you, but I do; and these disciples know you sent me. 26 I have revealed you to them, and I will continue to do so. Then your love for me will be in them, and I will be in them."
This is the Word of the Lord
Thanks be to God.
Kid's Talk   Alan and Jenny Keast
Reflection on the Scripture    Seung Jae Yeon
COVID-19 has changed lives around the world. The Coronavirus pandemic has changed your life and my life. Self-isolation and physical distancing have been everywhere no matter how it looks like. Washing hands with hand sanitizer liquid and wearing mask in public have become behaviours than ever. No hugs and handshakes have made us greet in different ways – You may have one practicing everyday with family or friends. If we get snapshots of how the coronavirus has changed the way people live their lives near and around you, there would be hundreds and thousands. For me, as a religious minister of church who meet and talk with people face to face, my weekly life and work have been changed – most of all, I have prepared online worship resources with many people (which means that I now do real liturgy defined as the work of the people) and printed booklet for members scattered. I have greeted without handshakes or hugs, maintained physical distancing in each encounter, and wiped surfaces I touched after meetings. Wondering what is new behaviour to you? What is a new normal to you nowadays?
New normal is a business and economics world's term. The term has been used often since the financial crisis of 2007-2008, as known as GFC (Global Financial Crisis), the 2008-2012 global recession and recently the COVID-19 pandemic occurred. It means that something abnormal has become commonplace. So many people say that we cannot go back to the life before the coronavirus pandemic. Yes, it is true. I agree with it. Of course, I have missed the old days that I led worship with the congregated people at church and encountered with people face to face in conversing and sharing life stories. However, I am asking to myself, "is going back a good option?" because we will struggle to get back to how it was before. It will look very different although the pandemic is lifted up, or vaccine and anti-virus medication are invented. As the leaders of Boronia Park Church has developed the safe plan for regathering, we may be asked question: What are our relations to time, space, and even belief in the Church? Simply, what is the Church for us being with new normal?
In 2001, I began to navigate new normal with two significant life events: marriage and migration. Note that at that time, our plan was to have a gap year in Australia for one year. Navigating the new normal in this country was big deal, challenging the young couple in new country. Life was not good but tough. The married life and its challenges and toughness were new normal. No options to go back. No turning back. New normal for me and Grace who got just married and have settled in new country fuelled, in the very changing times, to go through, breaking barriers and building walls to protect each other. We learnt acutely how to live self-funded life and help each other sustain as migrants or overseas students. I still remember that we had two-bedroom unit that was open 24/7 for other young people to come stay whenever they needed although we were poor but filled with the move of the Holy Spirit. My Joshua and Daniel were raised during that time. Their coming into our life was also new normal. I had to work harder to provide all their needs. Grace raised them with her prayerful care and love as a young mother. New normal for us did not look like blessing at that time. We were not able to hold fully every facet of the new normal as parents, migrants and Christ followers. But there was no turning back. No option to go back. We kept walking, resisting all challenges caused by new normal. One stage, we found that we went through the tough times and acknowledged that the new normal in our life from mid 20 to mid 30 had formed our faith real, giving us a great lesson that life that we live is given by God and for others. New normal in our earlier time in Australia brought us to God and His people closer. We, Grace and I, are called to live the life only for God and you all here at Boronia Park Uniting Church. I believe that God and His people are everything for me today.
The bible passages today, especially as we celebrate the UCA's anniversary of union, are giving us again clearly the direction we take our faith journey. The Hebrews' passage begins powerfully by commanding us, "keeping on loving each other as brothers and sisters." (v. 1) And it continues,
Don't forget to show hospitality to strangers, for some who have done this have entertained angels without realizing it! Remember those in prison, as if you were there yourself. Remember also those being mistreated, as if you felt their pain in your own bodies. (vv. 2-3)
It is so straight forward. No option for the Christ's followers to choose alternatively. No turning back from where we choose to believe in Christ the Lord as Saviour, Redeemer or Friend whatever you name his title. If you believe in Him, the life in Him, with Him and before Him for others is new normal. Loving each other, showing hospitality to stranger, remembering detainees and those who were killed in custody, and feeling for others and their pains in your own bodies. We are able to do so because of our strong faith in Him, confessing, "the Lord is my helper, so I will have no fear. What can mere people do to me?" The pandemic has changed lives around the world and introduced forcibly new normal to the life of our church community. As a gathered congregation, we will only sit from a distance to each other, worship Christ Jesus without singing hymns and have morning tea with your own food. However, at the same time, we would be reminded by the passage that God's call upon us is the same, inviting us to work on behalf of God in Heaven for His people, especially those in trouble. They may be refugees in detention centres or in our neighbourhood (they are not refugee anymore but our new neighbours), immigrants, Aboriginal and Torres Straight Islanders who have lost their connection with the land and abundant cultures, and our neighbours who seek to find a presence of Christ in you and me. We are able to serve them because Jesus Christ is the same yesterday, today, and forever. While believing in the Lord Jesus Christ, we, as new normal toward the world can go and work for them with His love.
We, as a Uniting Church in Boronia Park and wherever we are, are called to become a new normal that may challenge and change lives around us. In the last 42 years (plus 55 years as Methodist) we have become part of the world where the Holy Spirit moves around as Christ's community. We are now facing a new normal to congregation's life changes, anticipating that this will change forms of our worship, education and evangelism in mission. Yes, it is true. You may agree with it. However, the new normal will form our faith real in the relationship between God and others. For that, our Lord Jesus Christ, in John 17, prays.
I am praying not only for these disciples but also for all who will ever believe in me through their message. … O righteous Father the world doesn't know you, but I do; and these disciples know you sent me. I have revealed you to them, and I will continue to do so. Then your love for me will be in them, and I will be in them. (vv. 20, 25-26)
Dear my brothers and sisters in Christ, as Christ commanded, I will keep on loving you with my whole heart that is moulded by His love. And I will strive hard to be a christ for you and for many who are desperate for God's love. So let us be a Christ's community where many people find His love, acknowledging God's presence in the surreal times. We are called as Church for God and for His people. Don't forget that we are the new normal to reveal Christ's love to the world. Don't forget that Jesus Christ prays for us in Heaven. Let us be Christ' church today.
Amen.
Prayers of the People

      

Robyn Harvey
Prayer for a just future by Common Grace, Justice to People Seeking Asylum Team.
Let us pray:
Creator God, you are the giver of life.
Saviour Jesus, you have shown us what it is to love.
Guiding Spirit, you awaken us to justice.
Show us how to build a just future,
where all people have equal opportunity
to belong and to flourish in your vitality and love.
We ask for mercy for people in limbo on temporary visas,
for safety for those seeking permanent protection,
for reunion for families who are separated by borders,
and for relief for those losing hope within our detention systems.
We pray for First Peoples fighting
for justice on their own Lands,
for survivors of domestic violence
and for creation groaning under climate disruption.
Help us to live out your inclusive love.
Help us to live into your Kingdom
where all people have equal opportunity
to belong and flourish.
Work through us,
towards a just future.
Let us continue to pray for those who seek asylum.
God of Abraham, Sarah and Hagar,
God of travellers, migrants and refugees.
Thank you for the beauty and uniqueness
of this southern land which we share.
Grant your protection and grace to all who shelter here.
Forgive the racism and destruction
that have been part of our history,
and our disregard for the pain and oppression
within the Australian community today.
Help us shed our provincial expectations.
Take away our cultural tunnel vision.
Open our hearts to be caring neighbours to each other.
Direct our lives to just and peaceful action.
God of a thousand faces,
help us also to acknowledge you are worshipped
in many languages,
in different songs and rhythms of life from our own.
May we respect these religious insights in each other
and assist each faithful expression of you.
We rejoice in you, God,
in whose image we are brothers and sisters and
by whose example in Jesus Christ
we know the breadth and depth of your universal love.
Amen.
The Lord's Prayer
Our Father in heaven,
hallowed be Your name,
your Kingdom come, your will be done,
on earth as in Heaven.
Give us today our daily bread.
Forgive us our sins,
as we forgive those who sin against us.
Save us in the time of trial and deliver us from evil.
For the kingdom, the power and the glory are yours
now and forever.
Amen.
Assembly Song 2

     

There Are Many Ways of Sharing
There are many ways of sharing,
But God's Spirit gives each one.
There are different ways of caring;
It's one Lord whose work is done.
God, whose gifts are overflowing,
May we hear you when you call;
Keep us serving, keep us growing
For the common good of all.
We've been baptized in the waters!
We've been given work to do.
When you call your sons and daughters,
You give gifts for serving you.
God, we join in celebration
Of the talents you impart.
Bless each baptized one's vocation;
Give each one a servant's heart.
All are blest by gifts you give us;
Some are set apart to lead.
Give us Jesus' love within us
As we care for those in need.
Give us faith to make decisions;
Give us joy to share your Word.
Give us unity and vision
As we serve your church and world.
Text: Copyright © 2004 by Carolyn Winfrey Gillette
CCLI #260394
Offering
Let us pray:
O God,
Jesus taught that where our treasure is,
there will our hearts be also.
In this hour, we come bringing our treasures—
all that we have and all that we are.
We come seeking your treasure—
treasure that does not fade, decay, or disappoint.
Share with us the treasure of heaven,
that we may boldly share it with others. Amen.
(Writtend by Rev. Dr. Barb Hedges-Goettl, PCUSA)
The offering will be used for the congregation's continuing mission and ministry in these changing times. Please make your offering through a Bank Deposit or a personal cheque whichever is convenient to you.
Account Name: Boronia Park Uniting Church
BSB: 634-634
Account: 100023784
Reference: Offering
Please contact Robyn Harvey, Treasurer on 0418 783 290 or robyn.49@bigpond.net.au for more information about how to make Direct Debit.
If you are in a position to help others, Sydney Community Services, where we have donated foods and goods to support the need in our local community, may ask us to donate ANY pasta sauce or chunk soup cans. SCS has passed their appreciation for our donation. If needed to pick up donations from your home, let Robyn or Seung Jae know.
And many thank those who have donated for your sharing love and generosity.
Benediction
Let us pray:
We are not alone. We live in God's world.
We believe in God,
who has freely given the Holy Spirit
to bind us together as a community of grace.
We believe that the spirit can lead us
in the discovery of truth,
in the pursuit of justice, and
in the practice of caring for one another.
In our homes, in the church and in the community
the Spirit offers us inspiration and courage.
We are not alone. Thanks be to God.
(from Prayers on Parade (2006), compiled by Allan Shephard, Stepney, South Australia: Axiom Publishing. Permission is given for the use of this text in worship)
The blessing of God almighty,
the Father, the Son and the Holy Spirit,
be upon us and remain with us always.
Amen.
Some historical documents 
Captured from The Weekly Times Wed, June 22, 1977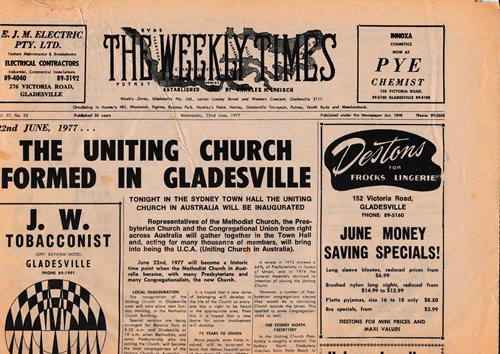 Captured from Northern District Times Wed, June 29, 1977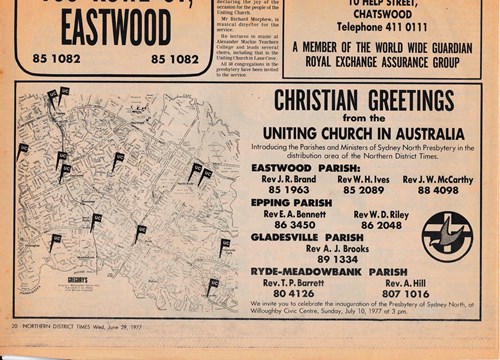 Order of service for the Gladesville Parish Inauguration Services (25 June 1977)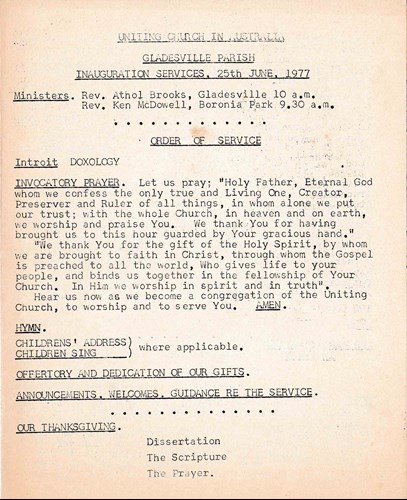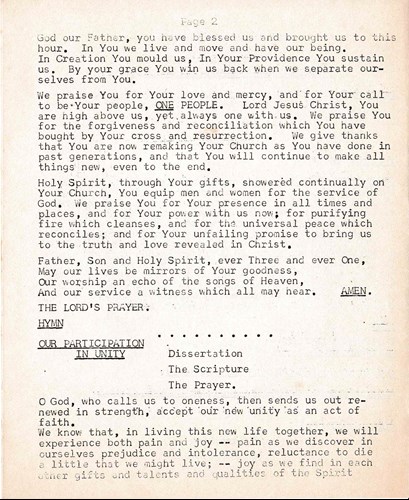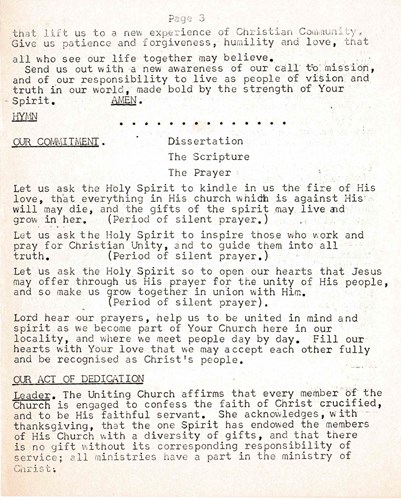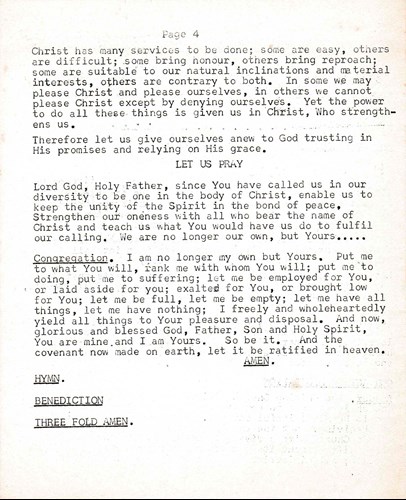 News Sheet issued on 26 June 1977