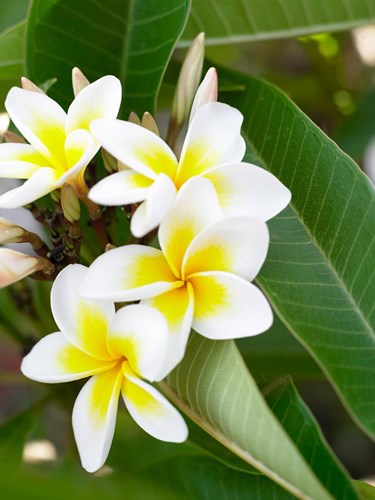 Frangipani 
Frangipani trees flower from December to April, and thrive in well-drained soil, plenty of sun and frost-free conditions. They love growing by the beach in sandy soils and are one of the best trees for tolerating salty air along the coast.
Photo: Andre Martin / bauersyndication.com.au
From "10 beautiful summer flowers to enliven your garden" (homestolove.com.au)
Preparing for Worship
This week we choose to use prayers and reflective readings provided in the Fifteenth Assembly Worship Resources which were used by all Fifteenth Triennial Assembly members and a gift to all Uniting Church in Australia. The theme of the meeting is Abundant Grace, Liberating Hope and our Church is encouraged to embody the theme until the next meeting in 2021.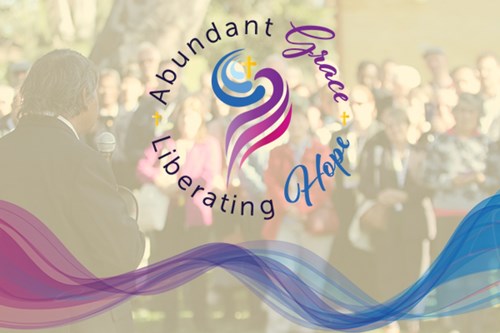 Also the President, Dr Deidre Palmer and many UCA members including Grace Song prepared the worship service themed Called By God which was live-streamed last Sunday. Deidre is happy to share the sermon she preached with us. With her permission, the sermon written is added in this booklet.
An expectation of this worship is that you may hold time to pray for all works that the UCA Assembly has done for our Church for instance, doctrines and theological directions, resourcing churches nationally and internationally, and representation of UCA toward other churches and the world.
Acknowledgement for the First Peoples
I/We would like to begin by acknowledging Aboriginal and Torres Strait Islander people, as the Traditional Custodians of the land on which we meet today and pay my respects to their Elders past and emerging. I/We extend that respect to them with our faithful prayer in this worship.
Gathering
Please join with each other in Spirit in this time and space of worship. Your response is in bold.
God is calling us,
calling us out to our ordinary lives
to gather together in community,
to be the church at worship in this place and at this time;
and we are glad to be here.
God is calling us,
calling us to live out within God's word,
to be light in the darkness and good news to the poor;
and we are glad to be bearers of light and justice.
God is calling us,
calling us to live out baptism
to be abundant hope where hope is scarce
and bring liberating grace to all
who find themselves imprisoned;
and we are glad to be bringers of hope and freedom.
God is calling us,
so we pray that we might open ourselves
to the spirit of God that dwells within us
and continue to grow and thrive in love and joy
as the colourful people of God.
Amen.
Attributed to Neryl McCallum
Song: Psalm 100 (Enter In)
Singers: Rev. Charissa Suli and her three daughters - Susi, Latu and Kina (from left to right)
Accompanist: Grace Song
Shout joyfully to the Lord all the earth
Come worshiping before the throne of God
For the Lord He is good
And His Love endures (forever)
So we enter in into His gates
Bringing words of praise
And off'rings of thanksgiving
So we enter in to bless His name
Lifting holy hands in honor of our King
So heavenly to walk into Your courts
Jesus is the One that we adore
Your majesty we bow before You Lord
Omnipotent amazing
Our God will reign forever
Magnificent breathtaking
(Our God will reign forever)
Charity Gayle | Joshua Sherman | Laurel Taylor | Steven Musso
CCLI Licence # 260394
Prayer of Adoration
Let us pray:
Holy God,
how wondrous it is that you, maker of the universe,
are made know to us.
We marvel at your presence in great things,
displays of majesty and splendour,
and we are humbled by your presence in small things,
displays of meekness and vulnerability.
Your glory is reflected in all you have created.
You are the beauty of the sunrise
and the red breasted rosella on the fence.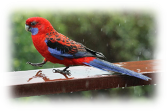 You are the gift of firelight
and the welcome smile of a stranger passing by.
You are the light that shatters the darkness
and the whisper of hope on a sleepless night.
You are the spark that made the universe
and the almond blossom breaking the winter.

You are the mystery of spinning orbs
and the holy gentleness of wine and wheat.
You are the healer of the nations
and the small hand held in trust.
It is here, in this paradox,
this tension between majesty and meekness,
that we are lost in praise of you,
for you are beyond all comprehension and yet known to us.
For your intimate presence
and your infinite grandeur,
we offer our praise,
holy God, impetus of the universe and beloved friend.
Amen.
Attributed to Jennifer Hughes
Bible Reading    Elaine Wallbank
Click to read Chinese and Korean translation.
First: 1 Corinthians 12:4-31 (New Revised Standard Version)
4 Now there are varieties of gifts, but the same Spirit; 5 and there are varieties of services, but the same Lord; 6 and there are varieties of activities, but it is the same God who activates all of them in everyone. 7 To each is given the manifestation of the Spirit for the common good. 8 To one is given through the Spirit the utterance of wisdom, and to another the utterance of knowledge according to the same Spirit, 9 to another faith by the same Spirit, to another gifts of healing by the one Spirit, 10 to another the working of miracles, to another prophecy, to another the discernment of spirits, to another various kinds of tongues, to another the interpretation of tongues. 11 All these are activated by one and the same Spirit, who allots to each one individually just as the Spirit chooses.
One Body with Many Members
12 For just as the body is one and has many members, and all the members of the body, though many, are one body, so it is with Christ. 13 For in the one Spirit we were all baptized into one body—Jews or Greeks, slaves or free—and we were all made to drink of one Spirit.
14 Indeed, the body does not consist of one member but of many. 15 If the foot would say, "Because I am not a hand, I do not belong to the body," that would not make it any less a part of the body. 16 And if the ear would say, "Because I am not an eye, I do not belong to the body," that would not make it any less a part of the body. 17 If the whole body were an eye, where would the hearing be? If the whole body were hearing, where would the sense of smell be? 18 But as it is, God arranged the members in the body, each one of them, as he chose. 19 If all were a single member, where would the body be? 20 As it is, there are many members, yet one body. 21 The eye cannot say to the hand, "I have no need of you," nor again the head to the feet, "I have no need of you." 22 On the contrary, the members of the body that seem to be weaker are indispensable, 23 and those members of the body that we think less honorable we clothe with greater honor, and our less respectable members are treated with greater respect; 24 whereas our more respectable members do not need this. But God has so arranged the body, giving the greater honor to the inferior member, 25 that there may be no dissension within the body, but the members may have the same care for one another. 26 If one member suffers, all suffer together with it; if one member is honored, all rejoice together with it.
27 Now you are the body of Christ and individually members of it. 28 And God has appointed in the church first apostles, second prophets, third teachers; then deeds of power, then gifts of healing, forms of assistance, forms of leadership, various kinds of tongues. 29 Are all apostles? Are all prophets? Are all teachers? Do all work miracles? 30 Do all possess gifts of healing? Do all speak in tongues? Do all interpret? 31 But strive for the greater gifts. And I will show you a still more excellent way.
Gospel: Matthew 28(New Revised Standard Version)
The Resurrection of Jesus
28 After the sabbath, as the first day of the week was dawning, Mary Magdalene and the other Mary went to see the tomb. 2 And suddenly there was a great earthquake; for an angel of the Lord, descending from heaven, came and rolled back the stone and sat on it. 3 His appearance was like lightning, and his clothing white as snow. 4 For fear of him the guards shook and became like dead men. 5 But the angel said to the women, "Do not be afraid; I know that you are looking for Jesus who was crucified. 6 He is not here; for he has been raised, as he said. Come, see the place where he lay. 7 Then go quickly and tell his disciples, 'He has been raised from the dead, and indeed he is going ahead of you to Galilee; there you will see him.' This is my message for you." 8 So they left the tomb quickly with fear and great joy, and ran to tell his disciples. 9 Suddenly Jesus met them and said, "Greetings!" And they came to him, took hold of his feet, and worshiped him. 10 Then Jesus said to them, "Do not be afraid; go and tell my brothers to go to Galilee; there they will see me."
The Report of the Guard
11 While they were going, some of the guard went into the city and told the chief priests everything that had happened. 12 After the priests had assembled with the elders, they devised a plan to give a large sum of money to the soldiers, 13 telling them, "You must say, 'His disciples came by night and stole him away while we were asleep.' 14 If this comes to the governor's ears, we will satisfy him and keep you out of trouble." 15 So they took the money and did as they were directed. And this story is still told among the Jews to this day.
The Commissioning of the Disciples
16 Now the eleven disciples went to Galilee, to the mountain to which Jesus had directed them. 17 When they saw him, they worshiped him; but some doubted. 18 And Jesus came and said to them, "All authority in heaven and on earth has been given to me. 19 Go therefore and make disciples of all nations, baptizing them in the name of the Father and of the Son and of the Holy Spirit, 20 and teaching them to obey everything that I have commanded you. And remember, I am with you always, to the end of the age."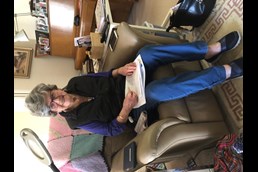 This is the Word of the Lord.
Thanks be to God.

Sermon

   

Deidre Palmer (UCA President)
Called by God, every member ministry,
living our Christian vocation in the world[*]
Did you call me? This is a question that my husband and I may ask at different times of each other.We are in different parts of the house – the washing machine may be going, or maybe there's noise outside. The response to the question may be – yes, did you want a cup of tea? Or no, I didn't call, but now you're here, what do you think about this?
When I was reflecting on the call of God for this service, that's one of the kind of calls I was imagining, a call that gets my attention, but not a dramatic flash of light and being blinded, or a heart stopping surprise call, that has me jumping out of my skin, but the kind of call that comes from the God we see in Jesus who loves us deeply and invites us into our fullest humanity. So when I hear that call, I can be assured, that in responding, whatever that call is inviting me to or challenging me to do, or where I hear I am being sent, the call comes out of love for me, for us, for others around me, for the church, for the world into which we are called.
---
[*]The President's Conference was going to be held last week at Adelaide but due to the Pandemic it was cancelled. But the Fifteenth Assembly and the President provided a live-steam worship service last Sunday to all of UCA members including us. This sermon was delivered to all audience of the conference online. With her permission, we now can read and watch again this Sunday.
As I was reading Matthew's Gospel and some commentaries on this text, I also recognised that the call of God, can be cataclysmic, earthshaking – Not a did you call me, but rather I can hear you very well and what I hear could turn my world upside down. God's call may have us moving across the world, or have us see the neighbourhood around us through new eyes. God's call may have us changing priorities, seeing ourselves and others differently, stepping out into new work, new relationships, new avenues of service. We hear the call - to love God, to love our neighbours, to live in ways that don't ask: what's in it for me? But what does God require of me? What reflects the common good, for the people and the earth that God loves?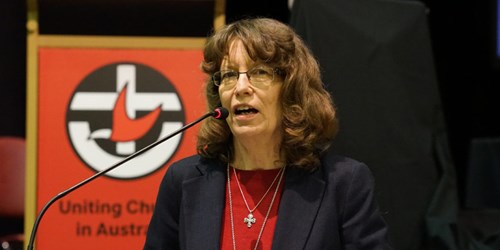 UCA President Dr Deidre Palmer (From crosslight.org.au)
Mary Magdalene and the other Mary had heard the call of Jesus – they had responded to the love and message of hope, that Jesus embodied. They came to the tomb out of love for Jesus. In Matthew's version of this resurrection account, they don't bring spices, but come to be present, to be where he is, they had come to see, perhaps they hoped against hope, that they would encounter him there.
It would have taken courage and deep love to come to that place, associating with one who had been put to death by the authorities. The women come to the tomb in grief and love, and they experience the life-changing news that Jesus is alive. And The angel has a message of commissioning: go quickly and tell his disciples. Of course, this is not a 'did you call me?' kind of experience. This is a heart stopping, I'm not sure I am going to live through this – call story.

The angel descends from heaven and rolls back the stone so it's no wonder the angel's first words to the women are "Do not be afraid". "I know that you are looking for Jesus who was crucified. He is not here; for he has been raised, as he said. Come, seethe place where he lay. Then go quickly and tell his disciples, "He has been raised from the dead, and indeed he is going ahead of you to Galilee; there you will see him." This is my messagefor you.'

The women left in fear and great joy. The risen Jesus met them on the way: and again they hear the words: Do not be afraid. The women heed Jesus' call to go and tell the brothers. They have been sent, the eleven are sent, and we are sent. With the assurance that the risen Crucified Christ is with us always.
I give thanks today for those courageous women: Mary Magdalene and the other Mary, they had the courage to go to the tomb, they faithfully responded to the message of the angel and to the risen Christ. They had faith, and they were sent to share the good news. In doing so, they are blessed by their encounter with the risen Christ. Amy Jill Levine in her commentary on this passage notes that these women are: the first witnesses to the resurrection (apostles) and the first missionaries of the Church." (Amy-Jil Levine, Women's Bible Commentary, p. 262)
In whatever way/state of mind, we come today – in fear, with doubts, in loving expectation, in wonder, in hope, God meets us here, along the way and says "do not be afraid, I am with you. God invites us to rejoice in the good news that Jesus has been raised by God and sends us to share that joyous news with others. Gustavo Gutierrez notes: "Evangelizing means communicating the joy of knowing that we are loved by God, the joy of knowing that life is the ultimate word in human existence."(p.78 "Sharing the Word through the Liturgical Year")
We are called today and we are sent – "Go and make disciples of all nations" teaching them to obey everything that I have commanded you"
God's call is into relationship. Relationship with the God, we experience in Jesus Christ. It's out of that relationship of love that we are sent – into ministry. "Every member" of Christ's Church is called to ministry.
It is a ministry which arises from the ministry of Christ – of love, compassion, justice, liberation, hope, reconciliation... seeking out the lost, getting alongside of those whose voice is not heard... welcoming those on the margins fully into the beloved community.
In our webinar yesterday[†], we heard stories of people who have responded to God's call and expressing their ministry in a variety of ways – in their work, in teaching, preaching, in advocacy in the public space, in the arts, in being a reconciling and compassionate presence, I hope that in hearing these stories, you will be prompted to reflect on God's call on your life, and the gifts you have been given to live out your Christian vocation in your daily life, wherever you are located, whatever the season of your life, and the communities of which you are a part.
The letter of Paul to the Corinthians – reminds us that there are a variety of gifts and services. And to each is given the 'manifestation of the Spirit for the common good. This is echoed in our Basis of Union[‡]:
Paragraph 13: "Gifts and Ministries"
"The Uniting Church affirms that every member of the Church is engaged to confess the faith of Christ crucified and to be his faithful servant. It acknowledges with thanksgiving that the one Spirit has endowed the members of Christ's Church with a diversity of gifts and that there is no gift without its corresponding service: all ministries have a part in the ministry of Christ. The Uniting Church, at the time of union, will recognise and accept ministries of those who have been called to any task or responsibility in the uniting Churches. The Uniting Church will thereafter provide for the exercise by men and women of the gifts God bestows upon them, and will order its life in response to God's call to enter more fully into mission."
"Every member ministry" is one of the great strengths of the Uniting Church – this Biblical theme that every member is called to engage in the ministry of Christ and equipped with a variety of gifts with which to serve. The gifts we are given are to build up the Body of Christ, so that we are empowered as our Basis of Union says: "To enter more fully into mission."
---
[†]During the Conference, the President had had a number of online seminars with many UCA members both lay and ordained, offering space and time to listen and then share words of encouragement.
[‡]The Basis of Union is the core document that set the platform for how three denominational churches – The Congregational Union of Australia, the Methodist Church of Australasia and the Presbyterian Church of Australia came together. This historical document states the central affirmations of the Christian faith and is a guide to what is central in the life of the Uniting Church.
And Paul goes on to reminds us that we all need each other – working together as the Body of Christ. This for me, reminds us of what a remarkable community the church is – interconnected, intergenerational, multicultural, in our diversity, brought together in the One Body by the Holy Spirit. The mosaic behind us – which was featured on the publicity for the President's Conference evokes this communal image. This was created by the Brougham Place Uniting Church in the Easter of 2019. It reminds us that God is able to take our brokenness and create a transformed community, witnessing to God's reconciling love.
Geoff Thompson in his commentary on the Basis of Union, notes that at the time of the development of the Basis – This paragraph on Gifts and Ministries "involved a revolution in the use of the word 'ministry'. The logic of these two paragraphs invites us to let go of talking about the ministry as referring only to those who are ordained. Positively, the logic of these two paragraphs is precisely the logic of baptism set out earlier in the Basis." ("In His Own Strange Way": A Post-Christendom, Sort-of Commentary on the Basis of Union. p. 76)
Like Geoff, I have been immersed in my formation as a Christian in this understanding of ministry – it's like the air I breathe. The Uniting Church believes that each one of us is called to be engaged in ministry. In being called to ministry, we are called as a community and personally to identify the gifts that God has given us, to discern how and where they might be used in our daily lives, for the sake of the mission of God and the common good of our world.
We spoke about the process of discernment yesterday in the webinar and we will explore this personal and communal discernment more fully in our face to face gathering at the end of April next year. During this time of global pandemic, we have seen particular gifts come to the forefront - people have offered their technological skills to create worship online, to enable video conferences of Councils of our Church, to pay attention to the detailed management of the spaces in which we gather, so that all the safety measures are observed. Our songwriters and poets, and liturgists have written new work, to reflect the lament, the grief, the searching for meaning, the cry for justice, the emerging hope and community that we so need at this time.
This letter of Paul to the Corinthians speaks of God's abundant gifting of the church – John McClure (Vanderbilt Divinity School) in his commentary on this reading (in Preaching God's transforming Justice Year A, p. 254) writes: "Instead of a spiritual economy of scarcity, we again see.... a world of plenitude in which God desires to pour out spiritual gifts on many, beyond our usual expectations...within the body of Christ, spiritual gifts are always focused on the common good."

In the global crisis we face, God continues to generously equip and empower the Church – each one of us, so that we can 'more fully enter into the mission of God" (Basis of Union par 13). We are reminded by Paul of the solidarity of the Body of Christ: if one member suffers, all suffer together with it; if one member is honoured all rejoice together with it. God calls us to hear the cries of those around us here in our local communities, in our regions, in our nation and in our world. Cries for justice, for peace, for equality, for food, for clean water, for the healing of creation.
Did you call me? Yes God calls us, you and me – to participate in God's mission of compassion, justice, love and hope for the whole world.
Thanks be to God.
Prayers of the People

      

Robyn Harvey
Paul's letter to the church in Philippi reminds us;
"Do not worry about anything, but in everything by prayer and supplication with thanksgiving let your requests be known to God."
So we pray: opening ourselves in prayer awakens the missional Word of God within us, to care for our world, our community and our environment.
Loving God.
We give thanks for the gift of prayer. The formal prayers we pray together now, and all the daily prayers caught in the sighs of our hearts. We give thanks for this place in which we live, the beauty of the land, the refreshment of Spring, the hope it brings.
We hold in prayer the worries of our world: For our world leaders, our Prime Minister and State Premiers - that they may guide social policy that empowers the vulnerable, give dignity and worth to those seeking to contribute to society and enables those with resources to share for the good of all.
We hold in prayer those who have lost their work, their meaning, their livelihoods over this year. May losses find a new opportunity to rebuild life and confidence. May social policy stimulate innovation and solutions that were previously only imagined. Particularly, we hold in prayer those for whom the devastating fires destroyed not only their livelihoods but also homes and more tragically the loss of life.
In silence we remember people known especially to each of us.
We hold in prayer those who are healing: awakening from hurt, and those with chronic health conditions. We pray for all medical teams, doctors, specialists, nurses, therapists, pharmacists.  For the cooks and the cleaners, the administrators of hospitals and clinics. For the allied health teams. Sustain them God in the constant demands made upon them, grant them rest and refreshment. We pray for all who are sick, those managing on-going health conditions.
In silence we remember people known especially to each of us.
We pray for our Church – For our agencies such as Uniting, hospitals, schools, social welfare agencies. For our congregations, our office holders and all who share in the ministry of Christ together. May we let go of that which holds the church back and may we embrace the mission ahead of us all.
In our World Circle of Prayer today we pray for the people of Belize, Guatemala, Honduras, Mexico. May they know that in churches all around the world they are being remembered today.
Locally we pray for the congregations of the churches in the Ryde Zone of Sydney Central Coast Presbytery – Boronia Park, Ryde and One Heart, North Ryde, Epping and Samil Korean, Eastwood and Marsden Road Carlingford. We especially pray for Joshua and Lily as they commence their HSC examinations in a weeks time. Give them clarity of mind and a confidence in the knowledge that you are sitting beside them during their exams.
Loving God there are always people and situations that we need to pray to you and seek guidance, may we open our hearts and minds to hear your message to us.
When we pray, Paul assures us that;
"The peace of God that passes all understanding will guard your hearts and y our minds in Christ Jesus."
May we who pray, rest in the peace of Christ and find meaning in lives of service and faithfulness. 
Amen.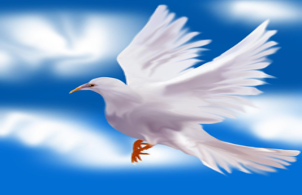 Selected parts from Worship for You
@ Home by UCA Synod of Victoria and Tasmania
Lord's Prayer
Our Father in heaven,
hallowed be Your name,
your Kingdom come,
your will be done, 
on earth as in Heaven. 
Give us today our daily bread. 
Forgive us our sins,
as we forgive those who sin against us. 
Save us from the time of trial
and deliver us from evil.
For the kingdom,
the power and the glory are yours 
now and forever.
Amen.
Song: Here I Am Lord
I, the Lord of sea and sky,
I have heard my people cry.
All who dwell in dark and sin
my hand will save.
I who made the stars of night,
I will make their darkness bright.
Who will bear my light to them?
Whom shall I send?
Here I am, Lord; is it I, Lord?
I have heard you calling in the night;
I will go, Lord, if you lead me.
I will hold your people in my heart.
I, the Lord of snow and rain,
I have borne my people's pain;
I have wept for love of them.
They turn away.
I will break their hearts of stone,
give them hearts for love alone.
I will speak my word to them.
Whom shall I send?
Here I am, Lord; is it I, Lord?
I, the Lord of wind and flame.
I will tend the poor and lame,
I will set a feast for them.
My hand will save.
Finest bread I will provide
till their hearts are satisfied.
I will give my life to them.
Whom shall I send?
Here I am, Lord; is it I, Lord?
Here I am, Lord; is it I, Lord?
I have heard you calling in the night;
I will go, Lord, if you lead me.
I will hold your people in my heart.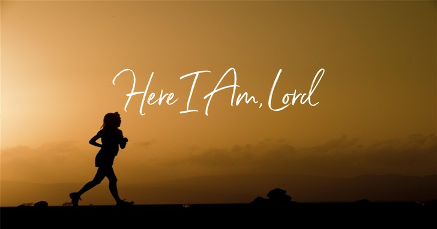 Words and music by permission Oregon Catholic Press
CCLI Licence # 260394
Offering
The offering will be used for the congregation's continuing mission and ministry including young people and youth ministry in these changing times. Please make your offering through a Bank Deposit or a personal cheque whichever is convenient to you.
Account Name: Boronia Park Uniting Church
BSB: 634-634
Account: 100023784
Reference: Offering  
Please contact Robyn Harvey, Treasurer on 0418 783 290 or robyn.49@bigpond.net.au for more information about how to make Direct Debit.
Photo Story
Robyn and Seung Jae took those photos of our dear friends in Christ last week.
From top to down: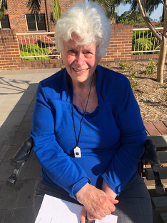 Barbara Summers,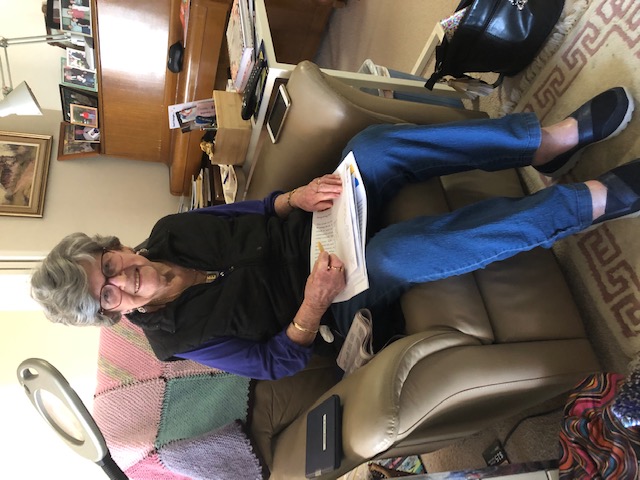 Elaine Wallbank,
Ron and Judy Robinson,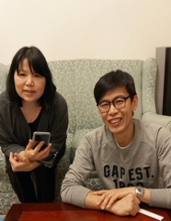 Olivia and Daniel Lee,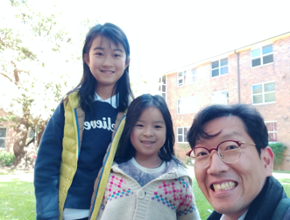 Vivian and Olivia Wong, and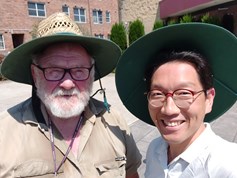 John Harvey (with Seung Jae)
Sending: In the Heat of Action
Looking at the window,
we see ourselves reflected
in ripples of glass
like images of ones we barely know.
Looking through the window,
we see a world of change and challenge,
filled with contradictions
that barely resemble
the hopes and dreams of faith.
Looking behind the window,
we pause to ask,
can God intervene
through human action?
or are we past
our use-by date?
But that's the Jesus surprise.
The least expected.
The counterintuitive.
Turning worlds upside down.
It's our commission.
Our challenge.
His passion.
It's our time
to come to play,
to get up and about,
to stand up,
to send a message,
to crash through,
to seize the moment,
He did – so can we.
Attributed to Lee Parker
The blessing of God almighty,
the Father, the Son and the Holy Spirit,
be upon us and remain with us always.
Amen.